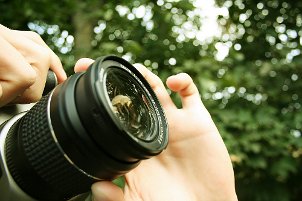 You may be using your digital SLR camera in full-auto mode, and that will produce some great shots for you. But the automatic features on your digital SLR are still not as accurate as you can be when you know how to manipulate the settings yourself. So, when you're ready to take off the training wheels, here are some tips on adjusting your digital camera settings for stunning, professional-looking shots.
Using a Digital SLR Camera:

Eliminate motion blur. Hold your arms close to your body when shooting. This will keep your digital SLR steady, and you'll get sharper shots with less blurring. Also, if you're shooting action shots, where your subject is moving a lot, adjust your shutter speed on the camera to get a quicker exposure.

Adjust your image-quality settings. Your digital SLR will have several image-quality settings, which affect the level of detail captured in each image. Usually, the settings will be labeled as high, medium and low. The detail you choose will usually depend on the subject you'll be shooting. Close-up shots of flowers, faces and textured objects will do better with a high-detail setting.

Adjust brightness and white balance. Your digital SLR camera is good at adjusting light levels, but sometimes you'll need to take over. Adjust your white balance to make sure bright lights and colors don't overwhelm your photo and wash out other colors and details.

Change ISO speed for darker shots. The ISO settings on your digital SLR affect how sensitive your camera sensor is to light. If you're in a low-light area, boost the ISO on your digital SLR to make sure you don't get a blurry or dark photo.

Explore your digital SLR menu and settings. Your camera has plenty of settings to accommodate several kinds of shooting. These settings do some of the work for you when you want to use your digital SLR to shoot portraits, landscapes, close-ups, action shots and night shots.

Buy Digital SLR
Back to Guides Directory