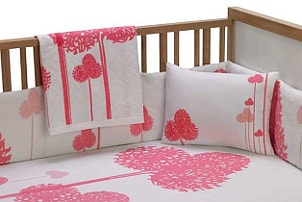 When you purchase and use a crib, you want to know that it is going to be a safe and comfortable place for your infant. Baby bedding accessories such as crib bumpers can help make a crib secure and cozy. A crib bumper is piece of crib bedding that covers the inside of the crib bars with plush fabric. Let us help you find the perfect crib bumper and use it safely with other crib bedding accessories to make your baby's crib more inviting.
Instructions:

Get the right bumper. It is important to buy a crib bumper that will fit perfectly in your baby's crib. If you choose to purchase a crib bedding set, then a bumper will likely be included. In this case, check to make sure that the crib bumper fits inside your crib before you need to use it. Whether you use the bumper in your crib bedding set or purchase one separately, check that the bumper has plenty of well-placed ties that will keep it securely attached to the crib. With these considerations in mind, you can choose from a variety of materials, patterns and styles to add flair to your child's crib and nursery.

Attach the crib bumper securely. Attaching a crib bumper securely will help minimize safety risks and keep your baby's crib comfortable. First, place the crib bumper inside the crib where the mattress and crib bars meet, covering all sides. Make sure there are not any open spaces. Then securely attach the crib bumper ties. If you choose to tie bows, be sure to double knot them. You will want to check to make sure that all of the ties are attached and that the bumper does not hang loose anywhere.

Take off the crib bumper when your child no longer needs it. When your baby is able to stand on her own, a crib bumper can become a hazard. Babies who can pull themselves up to the crib bars may use a crib bumper to give them a boost out of their crib. Protect your child by removing his crib bumper as soon as this becomes a concern.

View All Baby Bedding
Back to Guides Directory