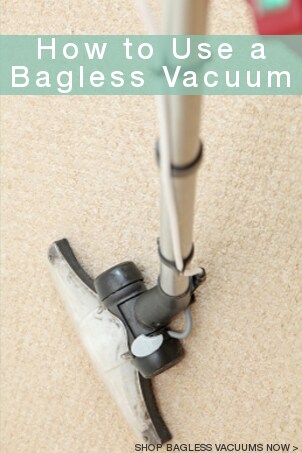 The invention of the bagless vacuum cleaner has made floor care simpler and easier. With no bags to buy, the cost of owning and operating a vacuum is lower over time. Without the disposable dirt collection bag to change and toss in the garbage, bagless vacuum cleaners are a popular, environmentally friendly option for home and business use. They're available in both upright and canister vacuum models. If you have never used a bagless vacuum cleaner before, be sure to read these helpful tips.
Using Bagless Vacuums:

Empty the receptacle: Instead of disposable bags, bagless vacuums have a hard, plastic container. The waste receptacle is usually clear in order to allow you to see when it's time to empty it. When the waste receptacle is three-quarters full, it's time to dump the waste. Turn off the vacuum and remove the receptacle. Place it deep into the bottom of a trash bag and tap it on the edge of the bag to remove loose dirt without letting particles fly into the air too much. You can also reduce the amount of dust in your home by emptying the dirt receptacle in an outside garbage can.

Maintain filters: Many bagless vacuum cleaners have lifetime HEPA filters that never need replacing. Some bagless vacuums use washable filters or replaceable filters. Check the filters regularly and follow manufacture recommendations for maintenance. In general, if a filter appears torn, damaged, or dark with dirt, it is time to remove the filter and wash or replace it according to manufacturer guidelines.

Clean the container: Clean the waste receptacle once a month. Use a damp rag or disposable wipe to clean dust and debris from the inside of the container. Towel-dry the receptacle and place it back on the vacuum.

Retrieve items: If a large item, such as a coin or small toy, is accidentally swept into the receptacle, it can easily be seen and retrieved. Turn off the vacuum, open the waste receptacle and take out the item. Replace the receptacle and continue vacuuming.

Clear clogs: If your bagless vacuum becomes clogged, turn the vacuum off before you clear the clog. Look into wand attachments for any buildup of dirt, especially when vacuuming pet hair. Check the vacuum for clogs where the dirt empties into the waste receptacle. Carefully remove the buildup with your fingers and place it in the garbage.
What Do You Want to Do Next?

Shop Bagless Vacuums
Shop Canister Vacuums
Shop All Vacuum Cleaners
See All Guides
Read More Home Guides
Learn More about Housewares