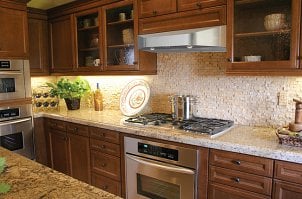 With some elbow grease, anyone can give their kitchen a significant makeover without breaking the bank. Learning how to update your kitchen on a budget is easy and rewarding and will save you an enormous amount of money in the end.
Update Your Kitchen:

Clean up. The most obvious, affordable way to get your kitchen looking its best is to clean. Clean every possible surface of your kitchen, from cabinets to appliances using warm water, soap, and rags. Be sure to clean surfaces you don't normally notice, such as the top edge of cabinet doors and drawers as well as behind appliances. If you have stubborn cleaning issues, use specialty cleansers.

Add storage. A new kitchen cart or a pot rack can add a lot to the room while helping you keep it organized. Look for coordinating pieces to create a cohesive look. A trash can, a wine rack, and a canister set, all in stainless steel, would add sparkle and style to the whole room.

Update your linens. Your kitchen table is probably one of the most noticeable things in the room, so make sure it's worthy of the attention. A set of place mats will add visual interest, or you could try layering a table runner over a tablecloth. Look for new dish towels in a coordinating color to bring the design to the rest of the room.

Change up the hardware. Something as simple as changing the cabinet hardware can add some interest to the kitchen. To make this project simple, choose knobs and pulls that use the same number of holes as your existing hardware. All you will need is a screwdriver to remove the old hardware, and then you can use the same hole for the new hardware.

Take on the countertops. Next, tackle your kitchen countertops. Your countertops can make a world of difference in the look and feel of your kitchen. Marble or granite may be out of reach on a budget, so think about laminate instead. It comes in a huge number of patterns and styles, plus it's easy to clean. Ceramic tile is another affordable option.

Add a fresh coat of paint. Paint can do amazing things for your kitchen if you want a fresh new look. It's the cheapest way to transform any room, and you can easily do it yourself. Semi-gloss latex paint is an excellent option, as it is durable and can endure cleaning. When painting your cabinets, prime them first using de-glossing primer paint rather than handling the messy work of sanding. Painting takes time, but the end result is worth it.
What Do You Want to Do Next?

Shop for Kitchen Decor
Shop for Kitchen Storage
See All Kitchen & Dining
See All Guides
Read More Kitchen & Dining Guides
Learn More about Kitchen Decor