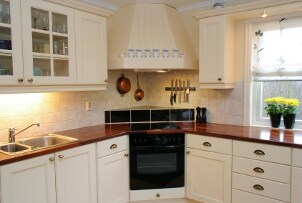 Things You Need:
Cleaning/Dust rag
Paint
Paint brushes
The appearance of your kitchen cabinets can make a lasting impression to friends and guests. Cabinets are more than just a place to store your dishes and food. Your kitchen cabinets can set the whole tone of your kitchen. Don't let the thought of renovating your kitchen furniture stress you out. Out-of-date cabinets are easy to update. If your kitchen needs a makeover, keep reading for ideas on how to update your kitchen cabinets.
Updating Kitchen Cabinets:

Perform regular, necessary maintenance. People get used to squeaky or sticky kitchen hinges over time. Make sure you regularly perform maintenance on your kitchen's cabinet hinges. By paying attention to your ailing kitchen hinges you will be surprised at how much better they work than before. In addition to oiling the hinges, watch out for any scratches or holes that may have occurred over the course of your kitchen furniture's lifetime. You'll dramatically improve the appearance of your kitchen by taking care of any nicks or scrapes, and your kitchen cabinets will look new again.

Refurbish your kitchen cabinets. Kitchen trends rotate on a regular basis. Instead of constantly replacing your kitchen cabinets, you can refurbish them yourself for a fraction of the cost. Simply remove the kitchen cabinet doors and the cabinet body, strip the paint or sand down the pre-existing coat and re-cover the kitchen cabinet doors with the paint or stain of your choice. Be sure to follow all instructions on paint or stain cans before proceeding. Newly refurbished kitchen storage will make impressive fashion statements after each renovation.

Change out your kitchen cabinet's handles. Sometimes even making small changes can make a big difference. Think about changing out your kitchen cabinet knob handles for pull handles or vice-versa. This type of change can give your kitchen cabinets a whole new look. Smooth metallic pull handles will match your new modern kitchen, while decorative wooden or brass knobs will give your kitchen a casual and whimsical appearance.

Clean them out. Over time, kitchen cabinets can collect all sorts of things. Take the time to regularly thin out your collection of dinnerware and cups. Streamlined and organized kitchen storage gives a nice overall appearance to any kitchen. Consider rotating your dish sets as well. This way you can keep your other sets stored which will free up space in your kitchen cabinets. Make it a habit of wiping down the inside of your kitchen cabinets with a dust rag when you clean them out.

Buy new cabinets. If your kitchen cabinets are broken beyond repair, it may be time to completely update your kitchen's look. Buy the kitchen cabinets that will best match your kitchen and keeps these tips close by for the next time you want to update your kitchen's appearance.

Buy Cabinets
Back to Guides Directory