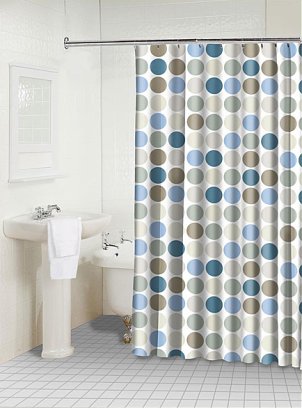 Are you tired of taking showers, brushing your teeth and preparing for work in the same bathroom day after day? It's time for a change. Remodeling a bathroom can seem like an expensive task, but it doesn't have to be. With a few inexpensive bath decor ideas and a little creativity, you can transform the look of your bathroom without gutting your bank account. This article will help you learn how to update your bathroom on a budget by providing inexpensive steps for a complete bath makeover.
Updating Your Bathroom:

Generate bathroom remodeling ideas. Pay attention to bathrooms ideas that you see at your friends' homes. Taking a look through a few home and bath magazines that feature bathroom designs can help you generate bathroom ideas as well. While they may not be quite in your budget, you can at least get some basic bathroom remodeling ideas, like which colors you prefer.

Clean it out. Remodeling a bathroom begins with stripping your bathroom bare. Remove everything you can in your bathroom, including shower curtains, hanging towels and any other materials. Tidy up cabinets if necessary.

Pick the paint. Purchase interior paint, particularly calming colors, such as beige or light blue. Make sure it's bathroom paint so that it will resist mildew and moisture damage.

Paint. Apply paint to your bathroom walls via roller brush or sponge. Sponge painting adds a special element of texture and liveliness without much additional cost.

Enhance with wallpaper. Paste a wallpaper border around the bathroom, but be sure to select one that enhances the room as opposed to distracting from other elements.

Clean the tile and the tub. Apply a heavy-duty cleaner to the bathtub and bathroom tile to bring back some sparkle to your bathroom. Not only will it effectively remove stains, but it will also add shine to your shower or bath area.

Allow the room to air. Allow the room time to air out and dry. Cleaners and paint can leave a chemical smell; open windows if possible and allow the odors to dissipate before installing a new shower curtain.

Install shower curtains. Install new shower curtains with a soothing appeal. Stay away from dark colors and strive for calming patterns surrounded by a vibrant white. Light colors enhance the feeling of cleanliness as you leave the bath.

Add a final flourish. Put a finishing touch on your bathroom project with a new set of towels and prepare to enjoy your fresh new space.

Buy Bath Decor
Back to Guides Directory