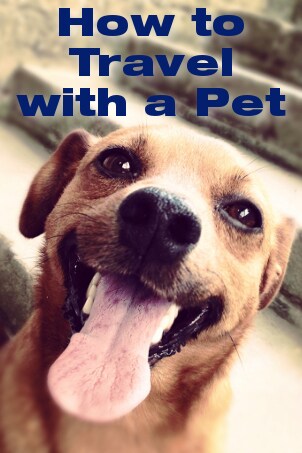 SHOP PET TRAVEL SUPPLIES NOW >>
Your pet is part of your family. And when you're going on a family vacation, your pet can be part of the fun. With a little preparation and the right pet travel supplies, your pets can travel safely and go almost everywhere you can go. Before you plan your next vacation, read these tips to learn how to travel with your pet.
Pet Travel Tips:

Find pet-friendly destinations: Wherever you are traveling, make sure your accommodations are pet friendly for the best pet travel. Some hotels allow cats or small dogs. Check ahead of time if any weight restrictions apply. Contact your hotel choice in advance to be sure your pet will be welcome.

Schedule a vet visit: Do a check-up with your pet before you leave. Check your pet's vaccination records and visit the vet for booster shots if necessary. Pack a photocopy of the vaccination records and keep them with you at all times during your vacation.

Pack your pet's luggage: Bring your pet's favorite belongings on the trip to help make him more comfortable. Make sure you pack everything your cat or dog needs to be comfortable on a daily basis, including food, treats, toys, leashes, and even familiar blankets or bedding material. Exotic pets, such as birds or lizards, may need additional supplies to keep them comfortable and healthy during the trip.

Buy travel safety supplies: Whether you're taking a road trip or flying to your destination, you'll want to purchase an appropriate travel crate or restraint device for your animal. If you are flying, you will need a crate that can safely be moved around and tied down in the airplane cargo hold for pet travel. If you are traveling with a dog or cat by car, you'll want a special crate or a harness that can be attached to a seat belt to keep your pets safe.

Plan sight-seeing with your pet: If you are traveling with a dog, visit a few dog parks and other pet-friendly places within your locality to make sure she gets plenty of exercise. This will help her become comfortable and well-behaved outside of her usual territory.

Know when it's better not to bring your pet: Don't force your pet to travel with you in the future if things don't work out. You may be better off if you hire a pet sitter or put your pet in a kennel where she can be taken care of until you return.

Shop Pet Carriers
Shop Pet Strollers
Shop All Pet Travel Supplies
See All Guides
Read More Pets Guides
Learn More about Pet Care