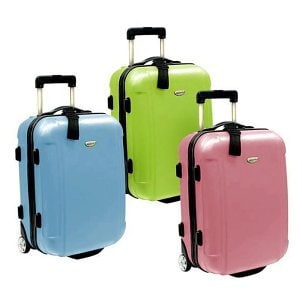 Things You Need:
A small suitcase
Your travel essentials
Even the simplest of trips can turn into a logistical nightmare if you over-pack your luggage. Learning how to travel light is easy and will save you stress, time and energy. Take a look at the handy tips below to figure out how to pack everything from clothes to travel accessories without going overboard.
Traveling Light:

Cut down on luggage. Use a minimal amount of luggage. Keeping your suitcase small will ensure you don't have the luxury or the room to over-pack.

Pack smart. Don't pack for the worst case scenario. For example, it's smart to pack a small amount of over-the-counter medication, but it's not necessary to bring several boxes of it.

Check the weather. Check the weather forecast for your destination. This will help you pack appropriate clothes while skipping clothes that would be too hot or too chilly.

Find out what you don't need. Check what will be available at the place where you'll be staying. Items like towels, hair dryers and even robes often are available in the room. Knowing this ahead of time allows you to skip redundancy in your packing.

Don't go overboard with shoes. Only let yourself pack one pair of shoes. Keep in mind that you'll actually be bringing a second pair with you on your feet. This should leave room for comfortable walking shoes as well as shoes to dress up with.

Maximize your outfit options. Instead of packing outfits, pack groups of clothes that match together. This will allow you to wear the same things a couple of times without looking like you picked your outfit in the dark. Keep in mind that it's often possible to do laundry while traveling.

Cut down on non-clothing items. Keep non-clothing items to a minimum. This includes using smaller, travel-size toiletries and entertainment items.

Save room for the return trip. Keep a small amount of space in your bag for any souvenirs you pick up while traveling. If you're concerned about space on the way back, pack an extra bag inside your main bag to use on the way home.

Buy Luggage
Back to Guides Directory