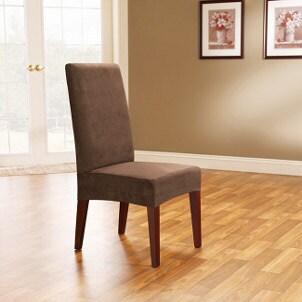 The goal when creating a livable dining room in your home is to find balance. You want a place suitable for elegant dinner parties as well as casual family meals. The main pieces of furniture in any dining room are the table and chairs. Whether you've chosen a sleek banquet table or a charming round one, the chairs you place around it can be a comfortable style statement. This guide explains why you may want to ditch your standard wooden chairs for chairs covered with durable slipcovers that add color and warmth to your family dining room.
Transforming a Dining Room with Slipcovers:

Assess your chairs. Slipcovers fit best on chairs with square frames and flat backs. Not only will slipcovers fit better on chairs with straight lines; they will also look more modern. There are two types of square chairs that work best with slipcovers: solid wood chairs and upholstered armless chairs with wooden legs. The style of chair you plan on using in your dining room will help determine which type of chair slipcovers to look for.

Decide on length. If you intend to create drama with a formal dining room, look for floor-length slipcovers. These slipcovers typically drape over you dining room chair and tie in the back for an elegant look. Covering padded chairs with short slipcovers is a more casual alternative to floor-length styles. These slipcovers typically have more stretch to fit the top of your chairs like a second skin.

Choose texture and color. The material you choose can also determine how formal your dining room feels. Stretchy suede or cotton is cozier and works well with classic tables that have character. If you entertain often and plan on having formal parties, look for damask or silk slipcovers that will shine under the light of your chandelier. Slipcovers are easily interchangeable, so you may want to keep a set of both formal and casual chair slipcovers in your linen closet. If you're having trouble finding slipcovers in a shade that will match your dining room, try picking up white cotton slipcovers and dying them to match.

Buy Slipcovers
Back to Guides Directory