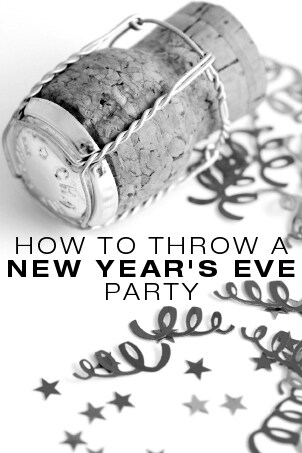 SHOP SEASONAL DECOR NOW >>
Things You Need:
Invitations
Guest list
Decorations
A new year brings with it the possibility of a new you, new relationships, and new adventures. To ensure a great year, make a resolution to start things off with a New Year's Eve party for all your friends. Don't feel overwhelmed at the idea of throwing a New Year's party. Start by reading our Party Planning 101 guide, and then follow the steps below. When you break down the party planning into a few basic steps, it's easy throw an unforgettable New Year's Eve bash with loads of style.
Throwing a New Year's Party:

Choose a theme: A great party starts with a fantastic theme; you have plenty of themes to choose from. Many people like the vintage theme. At a vintage New Year's party, your guests may dress up and drink martinis among black and silver decorations. Centering your gathering on one of your favorite movies makes party planning fun and simple. Black-tie New Year's parties are always classy and memorable; who doesn't love to have an excuse to dress up for a holiday? If you will be celebrating the New Year with children, consider having a costume party.

Start on invitations early: When you're in party-planning mode, it's a good idea to plan on completing tasks one or two weeks earlier than feels normal. When planning a New Year's Eve party, allow yourself even more time to get things ready. Keep in mind that many people will receive multiple invites to New Year's Eve parties. It's a competitive night. Give people the chance to choose the party they really want to attend -- yours -- by inviting them early. Send out New Year's party invites with your holiday cards to be safe. Your invitations should convey your theme and help guests decide what to wear and tell them what to expect in terms of food, activities, and timeline. Make your own invitations with blank cards and envelopes or order special invitations with plenty of flair.

Shop for decorations: With invitations out of the way, you are ready to start shopping for decorations. Consider classic New Year's Eve party decorations, such as brightly colored confetti, centerpieces with sparkling silver stars, champagne-hued streamers hanging from the ceiling, and metallic balloons. Or you could go all out with lights that bathe the room in purple, blue, and pink and disco balls over the dance floor. Traditional holiday decor also works well at a New Year's party.

Plan the menu: Your guests will be partying all night, so it's important to provide them with delicious refreshments to help them make it until midnight. Cocktail foods are the most popular refreshments for New Year's Eve parties because they allow everyone to keep mingling and dancing throughout the night. Consider gourmet holiday hors d'oeuvres, such as sweet potato puffs, cranberry shortbread cookies, and tiny dishes of baked macaroni and cheese. Of course, New Year's is mostly about the drinks. Don't forget the champagne, and consider having classic cocktails or drinks of your own invention on hand, too.

Create fun activities: Depending on your party theme, you may want to have dancing. In addition, the best New Year's parties have fun things for guests to do while waiting for midnight. Video games and board games that can get your guests laughing and having a great time are a classic choice. Get creative and encourage guests to make New Year's resolution cards to take home. If there will be children at your party, have several craft stations set up to keep them entertained. And everyone loves a photo booth, so set up a backdrop with streamers and provide a few photo props, so everyone can take fun pictures and remember the amazing night they had.

Shop Serveware
Shop Glasses & Barware
Shop All Kitchen & Dining
See All Guides
Read More Holiday & Giving Guides
Learn More about Parties & Decorating
Published December 28, 2010
Updated December 18, 2014