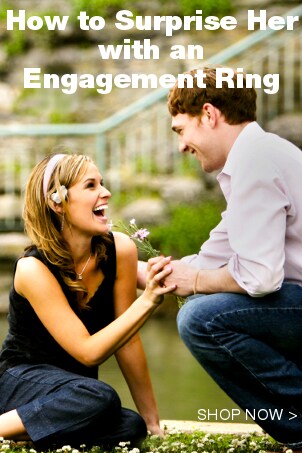 Chances are your girlfriend won't be too surprised when you propose marriage, but any true romantic knows you should try with a stunning engagement ring. Of course, some couples choose to shop for their wedding rings together. It is your first decision when considering shopping for an engagement ring: to have the bride-to-be choose her own ring or not. If you decide to surprise her with engagement jewelry, here are a few steps you can follow to find a suitable match.
Choosing an Engagement Ring:

The ring: Your girlfriend's personal fashion will give you clues as to which wedding ring styles will be a good fit. What type of jewelry does your future fiancee already own? She may have a preference for yellow gold or white gold and large stones or small stones. Classic diamond solitaire engagement jewelry will capture her heart if she prefers an elegant understatement. Choose a bridal ring set with multiple diamonds if she yearns for spectacular glamour. Unique engagement rings, such as those that feature pearls, gemstones, and unconventional settings, are perfect for the eclectic bride. You may have a questions about shopping for engagement rings. These guides should help you narrow down your choice:

Engagement Ring Buying Guides:

The setting: Choosing the right proposal setting will help make the moment memorable. This can be a special candlelit dinner, Valentine's Day date, or even a moonlit balcony overlooking the city lights. Consider your girlfriend's interests when choosing the setting. If she loves the outdoors, for example, consider proposing while on a hike. If she has a favorite restaurant, make reservations. Show your bride-to-be how much you love her by making the setting personal.

The proposal: Proposing is a very personal act, and it is important to choose the method that will be perfect for the two of you. Formal proposals are nice for the bride who loves grandeur and tradition. Casual proposals are the right choice for a laid-back bride, and you can work humor into your proposal if you feel it is appropriate. If you think that your girlfriend would enjoy choosing her own engagement ring, then propose with a candy ring and take her shopping later. The most important thing about proposing marriage is that the moment is filled with love.
What Do You Want to Do Next?

Shop Engagement Rings
Shop Bridal Sets
Shop All Wedding Rings
See All Guides
Read More Jewelry Guides
Learn More about Wedding Jewelry