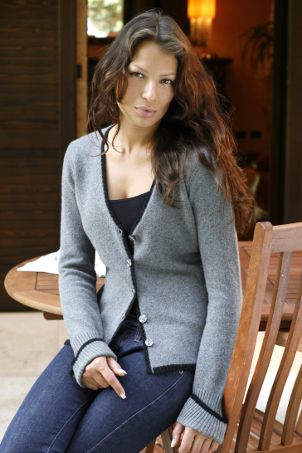 Cardigans can dress up and unify an entire outfit. No longer are the little button-up sweaters just designed to keep you cozy. Paired with dresses, jewelry and scarves, cardigans create a polished layered look that is perfect for the day at the office or dinner at an upscale bistro. Add a few accessories and your cardigan style will be the envy of your co-workers and friends.
Instructions:

Add a belt. Slip a cozy women's cardigan over a sundress and cinch it with a narrow belt. Move from warm weather outside to cool air conditioning in a comfortable, unified ensemble. Choose a belt that complements the colors of the dress and contrasts with the cardigan. Try a lemon-colored patent leather belt over a black women's cardigan paired with a whimsical sunflower print sundress.

Pin on a brooch. Add sparkle to a cardigan sweater with a piece of costume jewelry. An oversized brooch encrusted in sparkling rhinestones will enliven any solid-colored cardigan sweater. Pin the brooch at the top of the sweater or over the top button and allow the cardigan to flare open to reveal the blouse underneath.

Accent with a scarf. Button a wrap cardigan all the way and top it with a snug scarf. Wrap a scarf of contrasting color around the neck twice and finish with a loose knot. Allow the length of the scarf to flow down the front of your wrap cardigan.

Get crafty and embellish it. Remove plain buttons from a long cardigan and sew on new pearls or shiny metallic fasteners. Recycle a worn long cardigan by stitching on a patch, making it the perfect casual clubbing sweater. Paired with jeans and some high-heeled boots, this stylish cardigan is sure to get noticed.

Layer jewelry over a long-sleeved cardigan. Button up a cashmere cardigan and layer bangles on your wrists. Add a fancy ring or dangly earrings to dress up the look. Make the jewelry stand out by choosing silver to wear with a black sweater or layering red costume pieces over a white cashmere cardigan.

Buy Women's Cardigans and Twin Sets
Back to Guides Directory