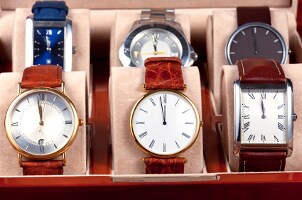 Watch collectors know that caring for a men's wrist watch collection is essential for keeping your timepieces functioning properly and looking their best. Men's wrist watches can be an investment, so make sure to protect your assets by practicing proper storage techniques for men's watches. This guide will outline all the steps you need to take if you want to keep your watches running smoothly for years to come, so keep reading to find out how to store men's wrist watches.
Watch Storage Guide:

Try a standard watch box. Watches should be stored separately from one another to avoid wear caused by friction. Whether you have a collection of solid stainless steel timepieces or have a lineup of sports watches, watches have many delicate parts and should be stored accordingly. Keeping watches in their original boxes can be space consuming, so pick up a streamlined box with separated compartments for easy storage that looks great on a dresser or nightstand.

Keep automatic watches on winders. Automatic watches rely on the natural movements of your body to stay precise and correctly wound. Keeping automatic watches on a winder will ensure they are wound whenever you want to wear them. Many watch winders are also meant to act as display cases, stylishly showing off your men's wrist watch while it is being wound.

Consider repurposing a cigar case. Cigar humidors can serve as a discreet place to store your men's watches, especially if they are vintage. Vintage watches require some extra maintenance to ensure that they are protected from moist air and dust. Therefore, the constant temperature and humidity a humidor provides works especially well for watch collectors who live in extreme climates.

Put extra-valuable watches in a safe. If you have luxury watches made with gold or diamonds, you may want to think about storing them in a special safe. Although keeping these stylish wrist watches on display is tempting, it can be unsafe. Secure your expensive watches in a discreet safe that can sit on your dresser, making it easy to wear them on special occasions while ensuring that they are protected from home invasions and fires.

Buy Men's Watches
Back to Guides Directory