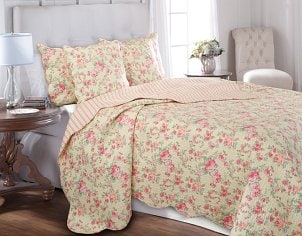 As the covering of the largest type of bed available, California king quilts are huge. These jumbo-sized quilts are great when in use, but they can be intimidating to store. Fortunately, if you need to put your California king quilt away, the job itself isn't as scary as it sounds. With a few easy steps and a minute or two of time, you'll be able to store yours with ease. Take a look below to learn how to store California king quilts.
Storing California King Quilts:

Shake it out. Whether you're planning to store your California king quilt for a short period or the long term, it's a good idea to shake it out. Shaking your quilt will help remove dust, dander and other debris that may have built up during its use.

Fold it. If you have an extra bed in a guest room or otherwise unused bedroom, you can use it to store your California king quilt without creasing it: Simply dress the bed with the quilt until you plan to use it again. If you don't have an extra bedroom, which is a likely scenario, it's still possible to store your quilt without heavily creasing it. Begin by laying the quilt out flat, and then fold it in half until its size is appropriate for storage. To prevent permanent creasing, crumple tissue paper and stick it in the folds of the quilt.

Store it. There are a few possibilities when it comes to storing your folded California king quilt. The most effective way to keep it clean and fresh is by using an airtight plastic container. With such a container, all you need to do is place the quilt in it, seal it and find somewhere to place it. If you don't have a plastic container, you can store the quilt by wrapping a sheet around it and placing it under a bed or on a closet shelf.

Display it. You don't have to hide your California king quilt away in order to store it. If you have furniture that's looking bare, you can use it to display your quilt. Simply drape your quilt over a couch or rocking chair, and not only will you have an excellent storage place; you'll have a boost in style.

Buy Quilts
Back to Guides Directory