A properly sized area rug can breathe life into a space and unify your furniture and decor. Before you start shopping for area rugs, take a moment to assess the size of your room. This will help ensure that the rug is neither too big nor too small for your space. Finding the perfect size rug is essential to creating a room that looks well thought out and properly decorated. This guide will help you to select the right size rug for any room.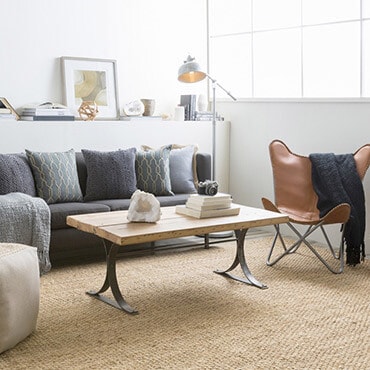 Choose the Room's Focal Point
A great place to start when shopping for a rug is to decide what the focal point of the room will be. Then take into consideration the colors, patterns, and style of the space and any furnishings or home decor to help coordinate your selection. If the room is large, you may want to layer rugs with different patterns and sizes to help create a contrast. Ultimately, a rug is there to unify your furniture. Whether your rug is the focal point of the room or a neutral base to highlight your decor scheme, choosing the right floor covering will bring harmony to your design.
Tape It Out
To help visualize if a rug is the right size, use masking tape to create a border on the floor where the rug will lie. When measuring a room, leave a 2-inch margin of error to avoid getting a rug that is too big or too small for the intended space. Once you have the tape placed exactly where you want the rug to go, you can measure the length and width of the area. Use those dimensions to help you decide on the rug size that is closest to your desired measurements. In the end, planning ahead and taking measurements will help you choose the perfect rug for your space. Check out our 30-second video for a few simple tips on finding the right rug for your room.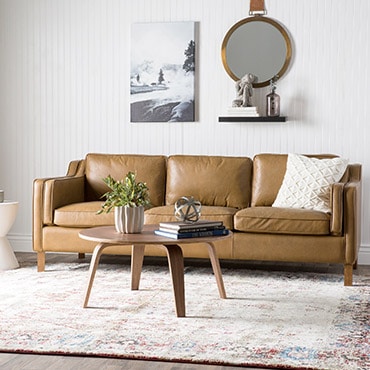 Think about Rug Placement
When measuring a rug for furniture, it's best to leave an even space on each side of the rug to keep the look symmetrical. For example, if you want to place a rug beneath a dining set, the legs of the table and chairs should not extend beyond the rug's edges. Plus, the rug should be large enough to accommodate chairs moving in and out from the table. To center your living room furniture, the rug should be about the size of the area where the furniture sits with the front legs of each piece of furniture fitting on the rug. Rather than placing a rug at the center of a room, use the flow of your furniture to determine the best placement. For larger, room-sized rugs, leave at least 8 to 12 inches of space between the edges of the rug and the walls.

Check out our Complete Rug Buying Guide for more information.