How to Size Your Room for an Area Rug
by Stacy Goll
Published April 28, 2010 | Updated June 11, 2015
A rug in the right size can complement the whole room, accent furnishings, bring life to a dull room, or make a subtle statement. However, if it's too big or too small, it may leave the impression of an unfinished or poorly decorated room. Before you start shopping for area rugs, you'll want to size the room. This guide will help you to select the right size rug in any room.
Choosing the Right Size Rug: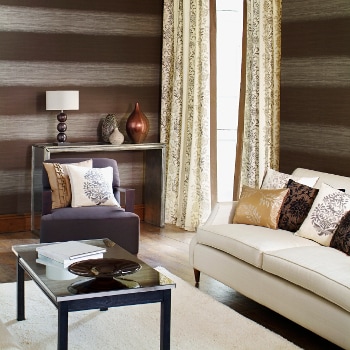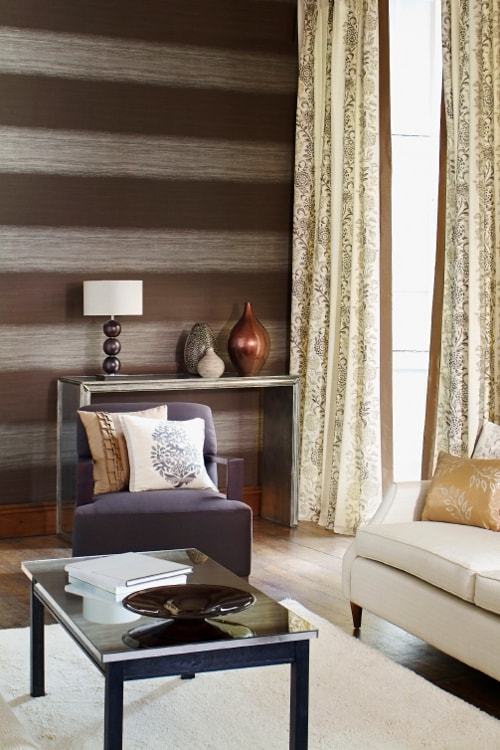 Shop Area Rugs ▸
Things You'll Need
Masking tape
Tape measure
Choose the Room's Focal Point

First, you'll want to decide where the focus will be: the rug itself, a specific item, or a location. Take into consideration the colors, patterns, and styles of the room and any furnishings or home decor to help coordinate your selection. If the room is large, you may want to use different patterns and sizes to help create a contrast.

Tape It Out

To help visualize how a rug would fit, use masking tape to create a border on the floor where the rug will lie. A helpful hint when measuring is to leave an approximate 2-inch margin of error. You don't want the rug to be too big or too small for the intended area. Once you have the tape placed exactly where you want the rug, you can measure the length and the width and use that measurement to determine which size rug you'll need.

Consider Furniture Placement

When measuring for furniture, it's best to leave an even space on each side of the rug. For example, if you want to place a rug beneath a dining set, the legs of the table and chairs should not extend beyond the rug's edges. For the center of a living room set, the rug should be about the size of the area where the furniture sits. Leave an equal amount of bare flooring between your furniture and each edge of the rug, so it doesn't appear off-center. For most coffee tables, a 4-foot by 6-foot rug or a 6-foot by 9-foot rug is recommended.

Think about Rug Placement

Place the rug in a way that is right for the room. Not every room will have one rug right in the middle of the floor. For example, in a bedroom, you could place a rug at the foot or sides of the bed, or if there are two beds, you could place a rug in the middle.

Allow for Borders

Leave some room around the rug. When you place a room-sized or oversized rug, leave at least 8 to 12 inches between the edges of the rug and the walls for the best effect. Likewise, runner rugs should be a few inches narrower and shorter than the hallway.
Recommended Rug Sizes by Room Size:
| Room Size | Recommended Rug Size |
| --- | --- |
| 4' x 6' to 5' x 7' | 3' x 5' |
| 6' x 9' to 7' x 10' | 5' x 8' |
| 9' x 11' to 10' x 12' | 8' x 10' |
| 10' x 13' to 11' x 14' | 9' x 12' |
| 11' x 16' to 12' x 17' | 10' x 15' |