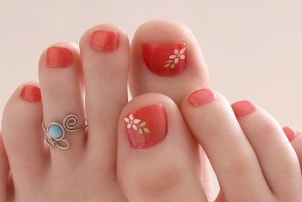 Celebrate summer with a fabulous collection of toe rings. Toe rings are available in many styles to suit your taste in body jewelry. Look for shiny gold rings decorated with crystals, shimmery silver toe rings with tribal engravings and sets of stackable stainless steel toe rings. Fantastic and valuable jewelry is an investment, so it's important to know how to show it off. Use these tips to show off all of your favorite body jewelry stylishly.
Showing Off Your Toe Rings:

Choose the right shoes: Toe rings look good with flip-flops, but there are many other shoe styles that will showcase fun fashion jewelry. Peep-toe pumps offer a cute retro style to a dress or a pair of shorts. Wear toe rings with peep-toe pumps to add just a dash of daring fashion to an outfit. Wearing gold fashion jewelry with woven-wedge espadrilles will give any ensemble a dash of well-traveled panache. Gladiator sandals remain trendy season after season; try wearing a toe ring and a sparkly ankle bracelet with your favorite pair. This fabulous jewelry combination will add a youthful look to any outfit.

Get a pedicure: Get everyone to notice your pretty new toe rings and trendy new sandals with a fresh and fabulous pedicure. You'll feel confident in bare feet when you're sporting bright orange toenails decorate with white daisies. If you have a great new gemstone toe ring, consider getting a pedicure that matches the jewelry. Emerald toe rings will shine beautifully next to bright green nails. Get a matching manicure for super-charged summer style.

Mix and match: Keep your style fresh by wearing your favorite body jewelry and fashion jewelry with your toe rings. Pair a set of stackable toe rings with a matching glittery belly ring. Dangling gemstone earrings go perfectly with brightly colored toe rings in a variety of styles. Beaded blue, yellow and orange necklaces and bracelets can be worn with toe rings and breezy fashions for a Bohemian look. Try several new jewelry combinations to find your signature style and show off your toe rings like a professional.

Buy Toe Rings
Back to Guides Directory