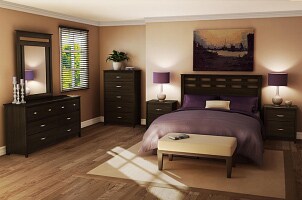 Creating a personal space is easy when you invest in a bedroom set. You don't have to worry about matching different pieces and making sure they all work together in harmony. However, once you own a bedroom set, how do you show off those three pieces of bedroom furniture, or four or six? Not only do you want it to look good for your own personal use, but you also want it to look just right just in case you want to show it off. No matter how big or how small your bedroom set is, there are a few simple ways to show this furniture to its fullest potential. Keep reading below for important things to remember on how to show off bedroom sets.
Showing off a Bedroom Set:

Make some space. An often overlooked suggestion is that you measure your room before buying a bedroom set. Find out how much room you have available and also get a clear idea of your bedroom's limits. You want to display your bedroom set. If all your bedroom pieces are crowded together, then your room will look more like a storage locker than a bedroom. Your guests won't be able to properly admire your bedroom.

Use your dresser. Storing your clothes in a dresser will help your new bedroom set take center stage. Storing clothes in your dresser will also help to open up your room and draw guests' eyes to your new bedroom set. A new dresser offers you more storage space, which lets you store your clothes and extra blankets and keep your room clean and organized. It's also a good idea to limit the number of items you store or display on the top of your dresser. Too many items can make your dresser look cluttered and detract from its natural appearance.

Accessorize with existing and additional art. Now that you've picked out your new bedroom set, it's time to make sure it matches your existing room decor. If you update your furniture and not the rest of the room, your new bedroom furniture might look awful instead of awesome. A modern bed will look out of place in a country-style bedroom. You don't have to update your entire bedroom along with your bedroom furniture set, but take into consideration your already existing style. You can buy furniture similar to your existing style or, if you are really ready for a drastic change, invest in a few matching accent pieces to go along with your new bed and other pieces. This will help the transition go smoothly from one look to the next.

Use the best lighting. You want your guests to see your new bedroom furniture. Opening up your room to natural light will show off the details of your new bedroom furniture as well as make your bedroom look larger. Consider purchasing a new lamp along with your new bedroom furniture if the room tends to be dark. A dark room mutes details and makes it difficult to show off your bedroom set to its fullest potential. Once you let in the light, your bedroom furniture will stand out even more.

Care for your bedroom set. Read all the material that comes with your new bedroom set. Since many bedroom sets are made from wood, check and see if you need to polish it on a regular basis. This will keep the wood looking lustrous and keep it from drying out. It will always look its best when properly cared for.

Buy Bedroom Sets
Back to Guides Directory