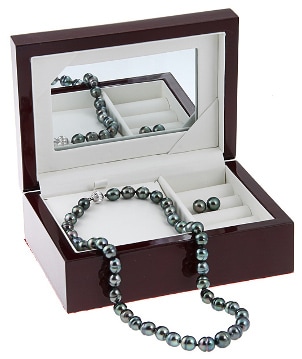 The beauty of Tahitian pearls is unmatched and unmistakable. A stunning Tahitian pearl necklace is just what you need to bring elegance and interest to your jewelry collection. Pearl necklaces are available in a range of lengths to suit every figure and every wardrobe. Tahitian pearl jewelry is a substantial investment, so be sure you're selecting the right Tahitian pearls with this guide.
Pearl Necklaces by Length:

Choker length: Choker-length pearl necklaces are 14 to 16 inches long. Choker-length pearl necklaces hug the neck and throat, but should not be tight against the skin. Tahitian pearls that are choker length add a dramatic sense of style to an outfit by placing a lot of color and luster near your face. When you wear chocker-length pearl jewelry, avoid elaborate earrings and keep your outfit choice simple and understated. Choker-length necklaces often look nice with strapless dresses.

Princess length: Princess-length pearl necklaces are 17 to 19 inches long. Princess pearls hang one or two inches below the base of the throat. Tahitian pearl necklaces in the classic princess length are very traditional and elegant. Many brides choose princess-length Tahitian pearl jewelry for their wedding day.

Matinee length: Matinee-length pearl necklaces are 20 to 24 inches long. The matinee length hangs below the base of the throat, but above the cleavage. This length is easy to wear because it goes with a variety of necklines. When you are wearing a simple crew neckline, matinee jewelry will luxuriously frame the neckline. When you wear a low neckline, matinee Tahitian pearls will rest on your skin.

Opera length: Opera-length pearl necklaces are 29 to 34 inches long. Opera pearls hang below the chest in a dramatic fashion. Tahitian pearl necklaces in opera length are bold and stylish. You can really wear opera Tahitian pearls with anything in your closet. Long pearl necklaces go well with more casual outfits, where shorter pearls may look too formal. Opera-length jewelry goes very well with dressy ensembles, too.

Rope length: Rope-length pearl necklaces are more than 45 inches long. Rope-length Tahitian pearl necklaces are modern, dramatic and opulent. You can wear rope length pearls long or double them to create two shorter necklaces. Versatility makes rope-length Tahitian pearl necklaces very popular.
Pearl Necklace Shopping Tip:

Every woman has unique dimensions; not every specific length will hang the same way on every person. Using a measuring tape, you can easily test these measurements on your own neckline to decide which pearl necklace length will be perfect for you.

Read our guide on necklace lengths for more tips.

Buy Tahitian Pearl Necklaces
Back to Guides Directory