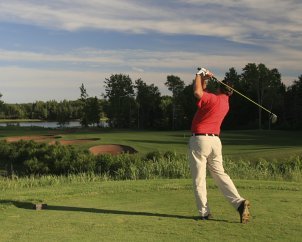 Of all the golf equipment you will buy, your golf clubs will cost most, so it may be a smart move to thoroughly research what styles are available to you before you make a purchase. This is especially important if you are shopping for a new golf club or golf club set online. Shopping for golf equipment online is the best way to find discount golf clubs, but it pays to read up on different kinds of clubs, since you won't be handling the clubs before you buy them. Keep reading for some tips on how to find the best golf clubs for you online.
Shopping for Golf Clubs:

Choose clubs right for you. If you are an experienced golfer, you already know what style of golf club set appeals to you, making your search less time consuming. If you are a beginner, consider models that feature forgiving qualities, such as offset heads and thick top lines for easy alignment. If you aren't sure which sort of golf club set you're looking for, reading through a good golf club buying guide can be helpful.

Ask questions of your golfing buddies and look at their clubs. See how those clubs feel when you hold them. In part, finding the best golf clubs for you will be a matter of finding clubs that match your preferences. Visit manufacturers' Websites to determine the specific features of the various models they make. Also, reading golf club reviews is a good way to find out subjective details about a set of clubs, like how stiff they feel or if they're effective at eliminating a hook in your shot.

Look for bargains. When manufacturers come out with new models, they often discount their previous models, making them exceptionally good deals.

Complete golf club sets provide all you need. When manufacturers come out with new models, you can often find previous models at great bargains on online retail sites. If finding discount golf clubs is a top priority, then looking at last year's golf club models is a smart shopping maneuver.

Complete golf club sets provide all you need. Some golf clubs can be purchased as part of a complete golf club set, including irons, woods, putter and golf bag. When you purchase clubs as a package, there is usually a substantial savings over buying single golf clubs. On the other hand, if you're perfectly satisfied with all your golf club irons, but your golf woods aren't working for you, you may save a lot by just replacing your golf woods and continuing to use your golf irons.

Consider how much the shipping fee is. Remember that the best deal is the lowest price you pay, not just the cost of the clubs! While shipping may not make a huge difference in the price, golf clubs often fetch high shipping rates because of their odd sizes. Finding a retailer that offers a low shipping rate can save you a good chunk of money.

Buy Golf Clubs
Back to Guides Directory