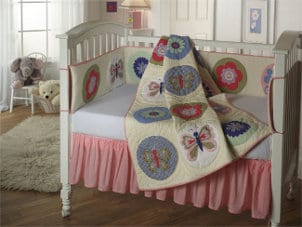 Having a baby baby is an expensive venture, but a few things, like clearance crib bedding, can make preparing for your new baby easier on your wallet. Newborns need many items, from clothing to furniture. Purchasing baby bedding and accessories such as crib sets can add up quickly. When you're shopping for crib bedding sets, consider clearance crib bedding. Clearance crib bedding can help you decorate your baby's nursery with stylish baby bedding without breaking your budget. Welcome your little one in style with clearance baby bedding or surprise an expecting friend with beautiful crib bedding and still have money to spoil the baby once he arrives.
Shopping for Clearance Crib Bedding:

Be flexible: When selecting a design theme for your child's nursery or giving crib bedding as a gift, choose themes and colors that are versatile. When you are shopping for clearance baby crib bedding, it is easy to find a good deal on a beautiful crib bedding set if your design is flexible. General color schemes and concepts work with a variety of clearance crib bedding sets. You may not be able to find crib bedding with bunnies, ducks and yellow balloons on sale, but you will be able to find clearance baby crib bedding with an animal theme or yellow designs.

Consider sets: Purchasing your baby crib bedding in a set can help you save money. Clearance baby bedding sets will often include sheets, blankets, a crib bumper, a crib skirt, a diaper stacker, curtains and other additional accessories. If you plan to use and decorate with all the items included in a clearance crib bedding set, you will save money by buying these items together.

Be creative: When you are decorating your baby's nursery, you don't need coordinating baby crib bedding and nursery accessories as far as the eye can see. Using art, curtains and rugs with complementary colors and styles can save you money and bring unique style to your child's room. Choose crib bedding in a solid color scheme and add decorative accessories that share the same hues or experiment with a range of themes and colors.

Buy Crib Sets
Back to Guides Directory