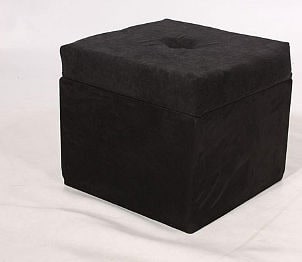 Things You Need:
Sewing machine
Fabric
Measuring tape
Fabric pencil
Heavy-duty sewing machine needles
Thread
Old, worn-out furniture often sticks around longer than preferred, creating some problems when it comes to redecorating a room. One common solution for keeping older sofas and chairs around that no longer match a living room color scheme or have too much wear and tear, is to create slipcovers using a sewing machine and new upholstery fabric. Slipcovers can be sewn for all types of furniture and if you are redecorating a room, you should attempt to update all furniture, including ottomans. If you are looking for an affordable way to keep your old ottoman around without disrupting your room's sense of style and coordination, then you might consider sewing your own ottoman slipcover.
Making an Ottoman Slipcover:

As long as you have a sewing machine and some basic sewing experience, then making an ottoman slipcover is a simple process. Unlike the method of sewing your own sofa slipcovers, making an ottoman slipcover is not much more complex than sewing pillow cases or simple bags. One of the most important steps in sewing your own ottoman slipcover is choosing your materials. It is a good idea to purchase a very strong type of fabric, such as upholstery fabric, in order to get years and years out of your slipcover before you have to replace it or shop for new furniture. The style of the fabric you choose will depend on your home's decor and your personal style. You might choose to match your other furniture or use a contrasting, yet complementary design when selecting your ottoman slipcover fabric.

Proper preparatory work will ensure that your ottoman slipcover turns out just right. When you are sewing your own slipcover, you might choose to use one of many upholstering patterns, which will give you a sure fit and standard design. On the other hand, you might be interested in sewing your ottoman slipcover without a pattern, to make it more of a custom item. If you choose to make your ottoman slipcover without a pattern, be sure to measure your ottoman precisely, and don't forget to add at least one inch to the length and at least two and a half inches to the height for the seams and any slight mistakes.

Pay attention to details. Whether you have chosen to use a pattern for your ottoman slipcover or you are making it from your own imagination, it is a good idea to use a fabric pencil to mark your fabric to guide you once you are seated at your sewing machine. In addition, it is important to pin your fabric before sewing to avoid making any mistakes that will just cost you more fabric and other supplies in the end.
Tip:

If your ottoman has a strange shape or you want a professional-looking ottoman cover, you might consider adding ties or clips to the edges for a perfect fit. If you are using a pattern, there are many available with this design.

Buy Sewing Machines
Back to Guides Directory