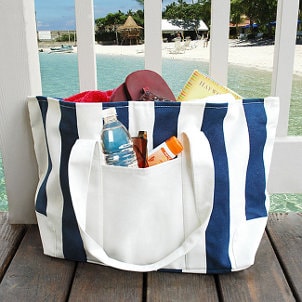 Things You Need:
Sewing machine
Cotton canvas fabric
Thread
Fabric pencil
Measuring tape
Scissors
Pins
Ribbon
Fabric paints
Canvas bags have always been a popular choice for beach gear, baby supplies and casual purses, as they are well-liked for their durability. The recent upswing in environmental awareness has also made canvas totes a must-have replacement for traditional paper and plastic shopping bags. Canvas is strong and easily washed, and it is a natural, breathable fabric that lasts a long time. Commercial canvas bags are available in many styles, but you can sew your own canvas bags at home using a sewing machine and a few affordable supplies, saving money and having fun getting creative at the same time!
Sewing a Canvas Bag:

Fabric and other canvas-bag supplies are available in a wide range of styles. In addition to a sewing machine, you will need to purchase some basic supplies to make your canvas bag. Cotton canvas comes in many different varieties. You might choose brightly colored fabric with fun patterns or select neutral tones. Contrasting or matching thread will also be a style choice. Consider your wardrobe and the bag's intended use when looking for supplies. If you are making canvas totes for grocery shopping, you might select fabric with an environmentally friendly message. Canvas bags meant for taking to the beach, on the other hand, will shine with bright stripes or polka dots.

Prepare your canvas bag for sewing carefully. Sewing a canvas bag isn't difficult. If you have ever sewn basic pillow cases or other simple items, then you already know how to make a canvas bag. Most of the work will be in the preparation. Lay out your canvas fabric in a double layer on a flat surface. Draw a rectangle or square on the canvas with a fabric pencil. The size and shape of your canvas bag is entirely your choice. After you cut the fabric, carefully pin it together with the insides facing out.

Sewing your canvas bag should be quick and easy. If you have done your preparatory work properly, then sewing your bag will likely be a very simple process. A 3/8-inch seam and close stitches are recommended for sturdiness. Also, don't forget to leave room at the top of the bag for a hem. Using this basic process, you can sew as many canvas bags as you need without much effort at all!

Add handles and embellishments. When you have sewn and hemmed your canvas bag, you are ready to add handles. Handles can be sewn from the same fabric as your bag, or you can purchase ready-made handles if you prefer. When you attach the handles, sew diagonal lines through them, creating an "X" shape, for sturdiness. You can also decorate your canvas bag with ribbon, fabric paints or even embroidery for a bag that is personal and unique.

Buy Sewing Machines
Back to Guides Directory