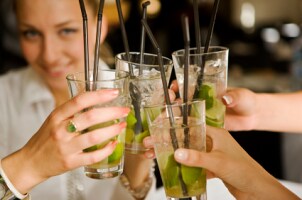 Things You Need:
Corkscrew
Bottle opener
Strainer
Jigger
Stirrers
Straws
Ice bucket and tongs
Paper towels or rags
Glasses
Liquor
Garnishes
Cocktail recipes
A well-stocked cocktail bar can be put together with a few common bar and wine tools and a variety of liquors, mixers and garnishes. This type of bar setup is ideal for any party with adult guests. Your cocktail bar can be self-serve or manned by a designated bartender for the evening. Whether you have a full bar available in your home or you are simply using a regular table set with glasses and barware, you can set up a stunning cocktail bar with ease.
Setting Up a Cocktail Bar:

Select a variety of recipes and make note of the required ingredients. If you want to offer some premixed drinks in pitchers, it will be especially important to calculate the amount of liquor and mixer you will need. Figure that each guest will drink about two drinks per hour for the first two hours and one drink per hour every hour after that.

Purchase appropriate liquors and mixers for your cocktails. If you don't have a variety of glasses on hand for drinks, you may need to purchase some of these as well. Make sure you have a bottle each of all the basics: vodka, light rum, gin, tequila (silver or gold) and whiskey. As you grow your cocktail bar and find your favorite recipes you can add more, like flavored vodkas and a variety of liqueurs.

Prepare garnishes for your drinks as needed. This may include fruit slices, cherries and olives. If you have a wide selection of cut fruit on hand, arrange skewers with a variety of fruit chunks on them.

Cover a large rectangular table with a tablecloth if you do not have a bar. A dark-colored cloth will help hide spills.

Arrange your liquor and mixers at the center of the table. If guests will be making their own drinks, provide two bottles of each item and place one at each side of the table, so guests can approach from all directions. Set garnishes, glasses and barware at the ends of the table.

Set out straws and stirrers at both ends of the table. Provide a corkscrew, bottle opener, jigger, strainer and any other necessary bar and wine tools in the middle of the table to help guests prepare their drinks.

Place a bartender's guide or printed drink recipes on your cocktail bar to help guests prepare specific drinks. If you are providing pitchers or premixed drinks, label these clearly to indicate the contents.

Buy Glasses and Barware
Back to Guides Directory