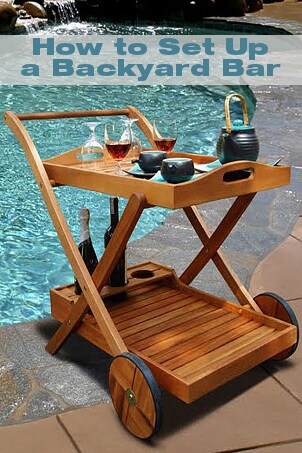 Whether you are planning a new an outdoor dining area or just want to add socializing space to your backyard, a backyard bar is always a great addition. A bar adds an extra dimension to your patio, and it's a great place to socialize and relax that's just steps from your door. Here is how to create your perfect backyard bar.
Creating Your Backyard Bar:

Think about size: Take into account the size of the space you are working with and the number of guests you plan to host. Bar carts are great for hosting intimate gatherings; larger bars will take up more patio space, but you can store more inside them. Also look at the layout of the area. You'll want to put the bar in a place that will allow your guests plenty of room to socialize and serve themselves.

Decide on a design: From tiki to teak, there are plenty of bar carts and bar tables to choose from. Pick one that complements your outdoor landscape and that fits your personal style. Don't be afraid to add personal touches; this is your space to relax in the outdoors.

Stock your bar: Before you invite your friends over for cocktails, you'll need a few supplies. If you have the space, keep a set of outdoor barware in your bar; opt for plastic tumblers and melamine plates over glass. You can stock a smaller bar cart with just the ingredients for one or two cocktails that you'll feature at a party, or you can go all out and stock your backyard bar with all the different liquors needed to make anyone's favorite cocktail. Don't skimp on quality; you want your guests to remember your backyard soirees for the good times they had, not the headaches they woke up with.

Basic Bottles to Buy:

Vodka (you'll probably use this most often, so get a larger bottle)

Gin

Rum (light and dark)

Tequila (silver and gold)

Whiskey (bourbon, rye, and Scotch for a full bar, but having at least one on hand will do)

Vermouth (you'll use it more than you think)

Orange liqueur (another mixer you end up using often)

One unexpected liqueur that guests will be delighted to see, like absinthe, ginger liqueur, or elderflower liqueur

Get your accessories: What is a backyard bar without patio furniture? Of course, you will want to have plenty of seating for your guests. If your bar is not in a shaded area, or does not have a roof, consider getting a shade or patio umbrella. Make sure all the accessories and furnishings you include are constructed for outdoor use to avoid having to replace them often.
What Do You Want to Do Next?

Shop Glasses & Barware
Shop for Outdoor Furniture
Shop All Garden & Patio
See All Guides
Read More Garden & Patio Guides
Learn More about Outdoor Cooking