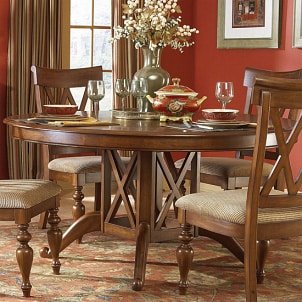 If you are planning a formal dinner or a holiday party, setting one or more round dining tables is a smart way to design your occasion. With round dining tables, everyone can see each other and socialize easily. When setting round dining tables with formal dinnerware, there are few simple rules of dining etiquette to follow to make sure everyone gets their proper tableware. If you are throwing a formal dinner or holiday party, a well-set table creates a formal ambiance or a festive vibe for your guests to enjoy.
Setting a Round Dining Table:

Kitchen linens. For a formal dinner, cover the table with a cream or white round tablecloth. If you are having a holiday party, a tablecloth in a festive color or print is appropriate. Use pressed cloth napkins in a color to match or contrast with your table cloth. Decorative napkin rings or an elegant fold give your napkins the finishing touch. You may choose to set a festive or decorative placemat at each guest's place or, for a formal occasion, a plate charger.

Tableware. Set plates around the table on top of placemats or chargers. Once you have placed the dinner plates, step back to make sure all the dinnerware is evenly spaced and centered on the place mats.

Additional dishes. Set any additional dishes appropriate for your meal plan on top of the dinner plates. If you will be serving appetizers or a salad, set a salad plate on top of each dinner plate. If you will be serving soup, set a soup bowl on top of the salad plate.

Flatware. Place dinner knives to the right of each place setting with the blade facing the plate. To the right of the knife, set the appropriate spoons for the courses you will be serving. Place the dinner fork to the left of the plate with any other forks appropriate to the meal to the left of the dinner fork. When placing flatware for a multi-course meal, work from the outside in, beginning with the first course farthest from the plate and ending with the dinner course closest to the plate.

Glasses and stemware. Set the bread plate above the forks. Set glassware above the utensils on the right. Depending on what you will be serving, place the water glass closest to the plate, and then either the red wine, white wine or champagne glass.

Table decor. Place a centerpiece in the middle of the round table. Keep flowers low profile or use tall, slender candles so guests can converse freely across the table without being obstructed by the centerpiece.

Buy Formal Dinnerware
Back to Guides Directory