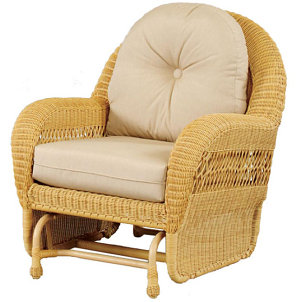 Wicker is a catchall word for furniture woven from a variety of plants, primarily bamboo, willow, rattan and reed. Many people select wicker chairs for their outdoor living space because the chairs can be treated to resist adverse weather. Also, because of their materials, wicker patio furniture appears much more natural outdoors than patio furniture made from synthetic products. Wicker chairs are also a popular choice indoors, particularly with Victorian or Oriental decor.
Selecting Wicker Furniture:

Types. Note the specified use of the chairs you are considering. Typically, wicker chairs are labeled as "outdoor use," "indoor use" or "limited exposure." Outdoor-use chairs can be used anywhere, so these will be a good choice if you will be placing your chairs out in the yard during the summer and bringing them into a screened patio for the winter. Limited-exposure chairs are intended to be used in mild climates and on covered decks or patios.

Climate. Outdoor-use wicker chairs are designed to withstand abuse from Mother Nature. Look for chairs with aluminum frames, which will not only help the chairs battle the elements, but also can prolong the overall life of the chair. Wicker chairs are available that have been treated with UV inhibitors, which help protect against sun damage and rapidly changing temperatures. If you live in an area with a lot of moisture, look for chairs that have been treated with resin.

Quality. Look for high-quality wicker patio furniture. Clues that the patio furniture is well-made include reinforced joints and densely woven material.

Materials and design. Choose a chair based on its materials and design rather than extras, such as cushions. If you're looking specifically for a bamboo chair with white cushions, you can easily purchase the cushions separately. Wicker chairs are not nearly as demanding about upholstery as other furniture.
Wicker Furniture Storage Tip:

Even outdoor wicker chairs need to be stored during extreme weather. If you live in a climate with abnormally cold temperatures, consider the size of the chairs in relation to your storage space.

Buy Wicker Patio Furniture
Back to Guides Directory