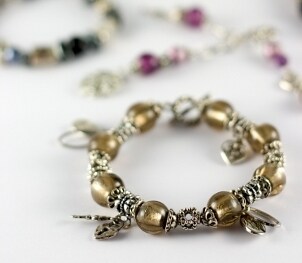 A set of pretty silver charms will become one of your favorite collections. Charms are small enough to be highly collectible, but intricate enough to express your wide range of interests. A charm bracelet, silver charm necklace or other piece of charm jewelry can be decorated with just a few silver charms or covered in baubles. Your silver jewelry should sparkle and jingle with a variety of pretty little charms. Consider these tips before buying a collection of silver charms and charm jewelry.
Selecting Silver Charms:

Size: Charm size in an important consideration. Small charms can get lost on bulky, overloaded chains, while large charms can steal the attention away from more intricate pieces of jewelry. Balance your charm jewelry by choosing charms that complement one another on a piece of gold or silver jewelry.

Style: Jewelry is always a personal choice, and charms are usually tailored to your specific interests. When looking through charms to select the best style for you, remember that each little piece will project your personality. Initial charms are a good place to start because they are simple and straightforward. Add a charm that shows off your hobbies and indulge in a charm that represents your favorite vacation. Some charms are embellished with diamonds and gemstones. These charms add extra sparkle to any piece of jewelry.

Material: Silver hues can be had in a variety of materials. Sterling silver jewelry is wonderful because it is affordable. For something a little fancier, consider white gold charms. White gold jewelry doesn't tarnish, and it offers a high level of shine. Platinum charms are even more extravagant, and stainless steel charms are very durable. Choose the silver charm jewelry that will be best for your collection.

Clasp: When buying silver charms, it is important to consider the construction of the piece. A good clasp will allow you to decorate all your jewelry worry-free. Most charms utilize a lobster clasp, which clips onto almost anything, including link jewelry. Some charms are constructed more like pendants, with a ring that must be strung onto a chain or cord. Keep your jewelry collection in mind when shopping for charms to find the best clasps.

Buy Silver Charms
Back to Guides Directory