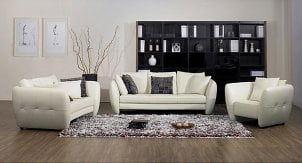 Investing in quality leather furniture is an ideal choice for busy families, newly married couples or fun-loving singles of any age. The durable textile makes leather furniture easy to care for since it easily stands up to heavy use and resists stains from most spills, whether they are the result of a midnight bash or a dropped sippy cup. Leather furniture also fits many diverse decoration styles. By knowing how to select quality leather furniture, you'll be sure to make the right choice for your home.
Selecting Leather Furniture:

Decide on a dye process for your leather furniture. Choose a dye process that suits your needs. There are three basic methods: aniline, semi-aniline and pigmented. While there are more categories and grades within these main methods, the best hides are usually dyed in the aniline process, followed by semi-aniline, which is the second-best choice and generally more affordable. Pigmented leather is usually made up of several coats of sealer and color.

Include coils with your leather furniture. Leather furniture that features eight-way, hand-tied coils holds up better than furniture with other spring types. These coils prolong the life of your leather furniture.

Choose the style and color for your leather furniture. A classic brown leather sofa with tailored lines and brass nail-head detail is perfect within a traditional design scheme, but don't feel that is your only option. A leather sofa also looks great in modular, contemporary styles and rich colors, like maroon or sapphire blue. If you want a pop of color, you can find brightly colored leather like red or yellow as well.

Decide on special features for your leather furniture. Consider which special features are important to you. Leather furniture offers many options, including seating that reclines, sleeper sofas or chairs and stadium-style seating. This piece of furniture will last you a long time so make sure you pick something that you like and will use on a regular basis.

Buy Leather Furniture
Back to Guides Directory