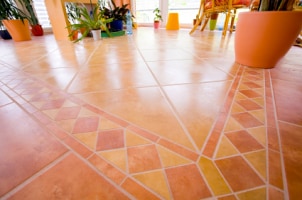 Selecting kitchen flooring is a personal choice and one that depends in large part on the dynamics of your kitchen and the size of your budget. Kitchen floors can be made from beautiful but somewhat fragile solid wood, traditional porcelain tiles or more durable vinyl and laminate options. The flooring in your kitchen should ideally be both beautiful and durable. Select kitchen flooring that will complement the decor of your kitchen and stand up to the spills, scuffs and scratches of everyday life.
Selecting Kitchen Flooring:

Set a budget. Having a budget will immediately narrow down your options and let you focus on what you can afford.

Think about the dynamics of your home. If your kitchen gets heavy use and a lot of traffic, you will want to choose a more durable type of flooring. This is especially true if you have children or large dogs in your home.

Think about the style of your kitchen. A sleek, modern kitchen will need a different type of flooring than a French country-inspired kitchen.

Choose the type of flooring you want. Vinyl is the most inexpensive, is durable and is easy to clean. Laminate can be made to look like hardwood or even tile and is also durable, but it is not as easy to clean as vinyl. Real hardwood flooring is unmatched in beauty but is also expensive. Real tile floors give a kitchen a timeless, classic look but can crack or break easily if struck with something hard.

Select a pattern, style, type and color. The prices for different styles or types can vary dramatically, even within the same type of flooring. For example, laminate floors are inexpensive if purchased as sheets but are more expensive if purchased as individual "boards" (in the case of laminate wood-look flooring) and even more expensive if purchased as individual "tiles."
Home Improvement Tip:

Don't forget to include the cost of labor when figuring your budget. Be sure to ask your contractor if he or she has installed that type of flooring before.

Buy Flooring
Back to Guides Directory