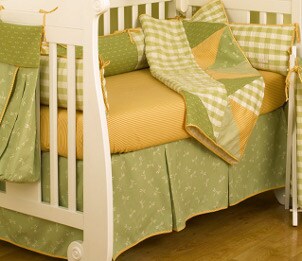 Making sure that your baby's bed is safe and comfortable is an important aspect of creating the ideal nursery for your little one, and purchasing soft and breathable baby bedding is a big part of the process. The ideal baby bed sheets will add style to your baby's nursery while giving him the perfect place to sleep.
Baby Bed Sheet Tips:

Safety first. Choose fitted sheets with elasticized edges that fit the crib mattress snugly to prevent the sheet from slipping off the mattress. Loose sheets can be a safety hazard. It's also important that babies do not get too warm while they are sleeping. Consider weather conditions and room temperature. Cotton sheets work well for most situations, while flannel sheets make a good choice for cooler conditions.

Think about comfort. Look for materials that you would want to use for your own bed. If the material feels soft and comfortable to you, it is probably a good crib bedding choice for your baby's sensitive skin.

Consider decor. Look for crib bedding designs and themes that complement your baby's nursery decor and match your own taste and style. If you prefer traditional themes, choose sheets with solid classic colors and designs. Trendy, modern baby crib bedding has fun, colorful patterns and unique hues. Explore and experiment with the many different available options before making your final purchase.

Buy a few sheets. You'll want to have at least two crib sheets, so you can have one in the wash and one on the bed. Some baby bed sheets come in a set of two, but if the sheets you choose don't, consider buying two different sheets in similar colors to change the decor now and then.

Invest in a complete baby bedding set. A baby bedding set will usually include a fitted sheet, crib bumper, dust ruffle and blanket. Although all of these items are not essential, the additional elements help coordinate the baby's room and add comfort. Buying a baby bedding set usually costs less than buying individual bedding items, and a matching bedding set easily adds personality to the nursery.

Buy Baby Bed Sheets
Back to Guides Directory