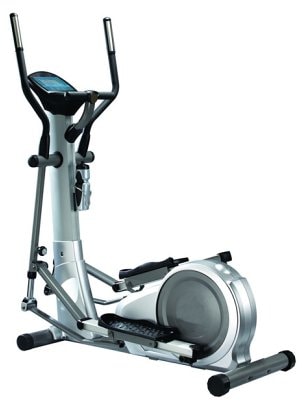 They help you lose weight and tone your body, but elliptical trainers do it in a way that is less stressful on the joints than stair climbers and treadmills. If you're looking for a great cardiovascular workout that tones your arms and legs and is easy on your joints, an elliptical trainer, also called an elliptical machine or an elliptical cross trainer, may be the way to go. There is no shortage of choices in home elliptical trainers, from gym-style cross-trainers to mini-steppers. Select an elliptical machine based on your goals, your fitness level, your finances and the features you desire in a home gym machine.
Selecting an Elliptical Trainer:

Choose an elliptical trainer based on the reputation of the manufacturer. Some top-of-the-line elliptical machine brands have the names of trusted manufacturers of home gym machines behind them. You know the type of quality you'll get with these brands; remember that you will be paying top dollar for this level of quality.

Choose an elliptical trainer based on experience level. If you are new to elliptical machines or home gym machines in general, start off with something simple. Save money by getting a machine that has the basic features that you are looking for instead of one built for fitness extremists.

Choose an elliptical trainer based on features. To provide variety to your daily workouts, find an elliptical cross trainer with a menu of exercise programs. To track your cardiovascular improvement, look for an elliptical machine with a heart-rate monitor. If you have limited space, consider machines that can fold down and easily be put away. You'll probably want to have a music player and water bottle close by while you exercise, so look for elliptical trainers with cup holders on compartments on the dash. Evaluate extended warranties and maintenance agreements, too.

Choose an elliptical trainer based on who will be using it. Different elliptical trainers have varying weight restrictions. If more than one person over 200 pounds will be using it, you will need an elliptical machine that is more durable than a machine only one person will use.
Tip from Overstock.com:

Read reviews by people who have purchased and used the machine. People who have nothing to gain from their reviews will give a more accurate and honest assessment of the machine's usability and features.

Buy Elliptical Trainers
Back to Guides Directory