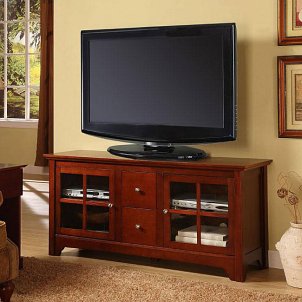 Watching movies, playing video games, enjoying the latest TV shows: When you're doing any of these things at home, you're looking at your television -- and whatever it sits on. A TV cabinet is furniture that is both functional and decorative. It will hold your media components and store some DVDs and games, too. To choose the best one for your living room, keep these tips in mind while you're shopping.
Selecting a TV Cabinet:

Decide what kind of TV cabinet you'd like. You can choose an armoire which will have doors that close to hide your TV when not in use. If you have a ray cathode TV (the older, bulky style), this is generally an excellent choice. If you would prefer a smaller piece of furniture, look for a TV console or a TV stand.

Measure your television. In addition to the size of the screen, you'll need to also measure the depth of the TV. If it is a flat panel TV, you won't have trouble finding furniture that can hold it, but an older TV will be a bit trickier to shop for.

Measure your available space. Take a tape measure and find out how much space is available for your new TV cabinet. Remember to measure the available space for height, length, and depth. Refer to these dimensions when shopping for your cabinet. This will help you to eliminate options that are too big or not big enough for your living room.

Consider how much storage you need. How many media components do you have? Just a TV and DVD player, or do you also have a stereo receiver, video game console, and a cable box? Some units offer special DVD storage or hidden speakers. TV armoires and TV cabinets generally have large amounts of storage, but a basic TV stand will often just have two or three low shelves and a top surface to hold the TV.

Choose a finish that complements or matches your existing living room furniture. Matching your wood tones gives a room a formal, traditional feeling. If you'd like to mix your wood tones, try to reflect other qualities on your other furniture, like a similar leg shape or handles in the same metal as your light fixtures.

Buy Entertainment Centers
Back to Guides Directory