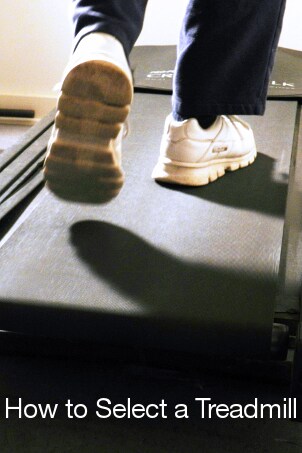 Going for a run or walk outside is a great way to exercise, but bad weather, traffic, and a lack of daylight can mean that being outside isn't always the best option. Fortunately, treadmills offer a solution that lets you get your workout at any time, and they can even allow you to watch your favorite TV show or keep an eye on your kids. As with all home gym machines, prices and features vary, but all offer you a convenient exercise option in your home.
Selecting a Treadmill:

Choose a location. Many treadmills are too heavy to be moved often and will require a dedicated space, but folding treadmills can give you full-size performance without taking up a lot of space when not in use. Folding treadmills are a great space-saving solution, and even if they won't fit under your bed, the smaller footprint when not in use makes it easier to keep one in a home office or guestroom.

Decide on motorized or manual. Manual treadmills do not have a motor. You simply run or walk, and the belt moves to match your pace. They tend to be more affordable and lighter weight than motorized treadmills. If you're simply looking for a cheap treadmill, a manual one may be a wise choice. Motorized treadmills move the belt at variable speeds and inclines, and it is up to you to keep up. They have motors measured in horsepower (HP), and something that is at least 1.5 HP is suitable for most home users.

Think about what motivates you. If you just like the feeling of being active every day, you won't need many extras. But if you need some motivation to get moving, you'll want a treadmill with features that track what you've accomplished. Most treadmills, even manual ones, will have a display, but there are many different levels of displays. Some will only display your speed or how far you have gone. Many motorized treadmills have computers that allow you to run training programs that automatically adjust your pace and incline as you run. Some of the best treadmills will even have heart-rate monitors and can tell you how many calories you burn in a workout.

Check out the safety features. Safety rails are important safety feature to look for, even if you're typically sure-footed. Auto shutoff buttons or straps should be easy to access while using the machine. You'll also want to make sure you can straddle the belt when it's starting.

Look into extended warranties. An extended warranty is a good way to get peace of mind when you buy a piece of electrical equipment. If you decide to purchase a motorized treadmill, be sure to see if there is an extended warranty available and if it is worth it to you buy it for your treadmill.
What Do You Want to Do Next?

Shop Treadmills
Shop Elliptical Trainers
Shop All Home Gym Machines
See All Guides
Read More Sports & Fitness Guides
Learn More about Exercise