by Barbara T. Biehler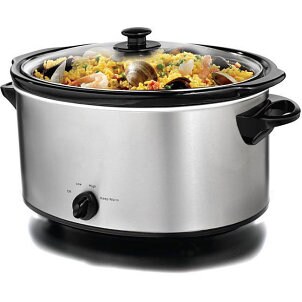 Few kitchen appliances provide the ease and convenience of food preparation like a slow cooker. Sometimes called crock pots, slowcookers can easily cook a delicious one-pot meal for a whole family: just add the ingredients to the slow cooker early in the day; turn the appliance on; and the crockpot does the work for you. Selecting a slow cooker requires some consideration because slow cookers come in numerous sizes and offer a myriad of different features, so it's important to consider what size and features you want before buying.
Selecting a Slow Cooker:

What do you need your slowcooker to do? Slow cookers can be used to cook meals for an entire family or to simply warm food like dips and sauces. Slow cookers also come in a wide variety of sizes, some small enough to feed an individual and others large enough for entertaining a crowd.

Assess the cooking capacity. Some slow cookers, made for warming dips or sauces, have a cooking capacity as small as 16 ounces, but most crock pots measure cooking capacity in quarts. A 4-quart crockpot is large enough to cook a meal for a family of four to five people, while a 7-quart slow cooker is the ideal size to feed a larger family or group of people for parties. A three-pot, buffet-style slow cooker unit is a wonderful appliance to have for entertaining because it allows you to warm or cook three different types of food all at one time.

Consider cooking controls. Slow cookers with manual cooking controls usually have only three settings: off, low and high. Programmable crock pots offer greater cooking flexibility because they don't have to be physically turned on or off. Advanced cooking options are available with programmable slow cookers, including fixed cooking times with automatic shifts to warm or automatic shut-on and shut-off features.
Tips:

Select slow cookers with removable, dishwasher-safe stoneware for faster, easier clean up.

Slow cookers with locking lids and travel bags are great for transporting hot, slow-cooked food without spilling.

Buy Slowcookers
Back to Guides Directory