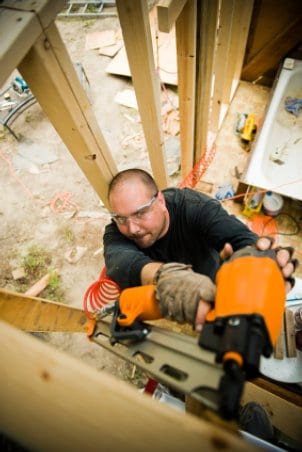 Whether you are adding new shingles to a roof or putting together wood furniture, you may find that a simple hammer takes far longer than necessary to finish a job. If you want to insert a large number of nails quickly, you can instead use an air gun that inserts nails, which is also known as a power nailer. Nail guns come in a variety of shapes and sizes, and each is intended for a different type of project. Before selecting a new nail gun, carefully consider the features and compare them to the type of job you are performing with the tools in your workshop.
Selecting a nail gun:

Take into account the size of your job and the number of nails you will need to use. Pick a stick nailer, which generally holds 40 or 50 nails at a time, for smaller jobs that don't require as many nails.

Big jobs need a larger nail gun. Pick a coil power nailer, which can hold up to 300 nails at a time, for bigger jobs that require many nails to be used in a short amount of time.

Choose a type of nail gun that is correct for the specific application you need. Go with a roofing nail gun if you need heavy-duty nails to hold in roof shingles or instead, pick an air gun such as a finishing power nailer if you need a lightweight tool for wood furniture.

Detailed work requires a gun with more maneuverability. Select a smaller class of nail gun known as a "stapler" if you need to work with extremely small nails for detailed jobs, like adding trim or baseboards to wood furniture.

Decide between a pneumatic nail gun, which must be regularly recharged with a separate air compressor or a cordless power nailer, which uses disposable gas canisters for power. Choose a pneumatic nail gun if you will have easy access to a wall outlet and an air compressor. Choose a cordless power nailer tool if you will be far away from an outlet, such as on a roof, but keep in mind that you will need to buy extra gas canisters.

Check the air requirements, which are measured in cubic feet per minute, for the nail gun you select if you choose a pneumatic power nailer. Pick a corresponding air compressor that provides the correct amount of air pressure to ensure that the power nailer works properly.

Check to see if the power nailer fires nails as soon as you pull the trigger or if you need to pull the trigger and then press the head of the device against a surface. Choose the type that requires pressing the nailer against an object if you have never used a nail gun before, as it can be easy to accidentally fire multiple nails at the same time with a standard nail gun.

Buy Air Guns
Back to Guides Directory