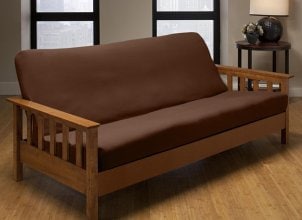 Whether you have a guest room or would like to have the option for guests to stay in your living room, purchasing a futon is an inexpensive and practical option. Futons are excellent for saving space and providing a comfortable, stylish place for guests to sleep. Below, you'll learn how to select a futon for guests.
Selecting a Guest Futon:

Determine what you need. Do you need a new futon frame, a new futon mattress or do you need to upgrade both of them? Make sure you know exactly what you're getting when you purchase your new futon supplies. Futon mattresses are not always sold with the frame, so don't assume the frame is included. You don't want to purchase a new futon mattress only to find the day it arrives that the frame wasn't included.

Take measurements. Measure the space in your room where you will place the futon frame, both folded and reclined. Measure the maximum area your futon can take up and then you can begin to look for the right futon.

Decide what material you would like for your futon mattress. Futons can be made of cotton, polyester, cotton and wool blends, foam and metal coils. Cotton and cotton-wool blends tend to have the highest quality while polyester and metal coils are less resilient and not as comfortable. If your guests are frequent visitors, make sure they don't have any allergies before buying the mattress or covers and pillows. If they can't sleep because of allergic reactions to the futon fabric, then selecting the perfect futon is a moot point.

Invest in a futon cover. Purchasing a futon cover prevents spills and stains from damaging your futon mattress. If you are expecting guests with children or pets, purchasing a futon cover is good insurance for your new furniture. You can buy futon covers in canvas, microsuede or cotton. The thicker the cover, the more protection it will provide. You can simply remove and wash a futon cover if it becomes stained.

Match the frame to the room. This isn't the most important aspect of selection a futon, but it still has its merits. You want your guests to know that they're important to you. A futon frame and mattress that matches the room's decor will tell them that you care and that you put time and thought into picking out something nice for them.

Buy Futons
Back to Guides Directory