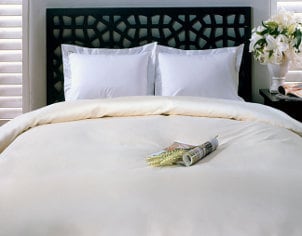 Things You Need:
Ribbon
Needle and thread
Scissors
Wrestling a king-size duvet back into its duvet cover after washing is a battle that can require super-human patience and several extra limbs. The enormous area of king-size bedding usually makes washing or changing your duvet cover a two-person chore, but with a few modifications, you can make switching out your king-size duvet cover much simpler. The easiest solution is to create ties that attach to your duvet insert and keep it secure without holes or extraneous metal parts. For instructions on making this bedding alteration, keep reading.
Securing a King-size Duvet Cover:

Wash and iron your duvet cover. Before you begin, make sure to start with a freshly washed duvet cover. If your duvet is new and made from cotton material, wash it on high heat and dry to ensure that it won't shrink later.

Cut eight pieces of ribbon. Measure out eight 6-inch pieces of ribbon and cut them. If your duvet is light-colored, choose ribbon that matches and won't show through. The width of the ribbon won't matter, but since you will be tying it to the duvet, try to choose something that is about medium thickness.

Sew ribbons on each corner. Flip your duvet cover inside out and pin two pieces of cut ribbon to the bottom corners. Sew in place by hand-stitching the ribbon to the hem of the corner. This will ensure that you won't see the new ribbon additions when the duvet cover is right-side out.

Tie your duvet to the cover. Line up your duvet with the duvet cover and attach ties to the bottom two corners. Tie them in a square knot, which will hold while still making it easy to untie. Then grab the corners from the inside and shake until the duvet cover is turned inside out and covers the duvet. Attach the remaining ties and snap or button up your duvet cover.

Make the bed. Shake duvet out and place on your bed. The duvet cover will now stay in place until the next time you want to wash or change it.

Buy King Duvet Covers
Back to Guides Directory