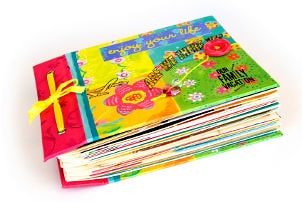 Things You Need:
Digital scrapbooking software
Photo album
Paper
Photos
Scissors
Adhesive
Pens
Embellishments
Scrapbooking is an artistic and fun way to treasure your photographed memories. One of the most beneficial things about scrapbooking is that it is personal, giving you a chance to be creative while making your photos and mementos special. Photo albums with personalized touches are also very pleasing to the eye and are fun to share with friends and family. Scrapbooking can be easy, and it is a hobby that becomes simpler and more entertaining with time. Whether you choose digital scrapbooking or you prefer embellishing album pages the old-fashioned way, scrapbooking is always a rewarding activity.
Scrapbooking:

Many different types of scrapbooking supplies are available to choose from. If you choose digital scrapbooking, then you won't need nearly as many supplies as are required for non-digital scrapbooking. You will need to select a digital scrapbooking software program and you may also be interested in purchasing nice paper and a quality photo album for printing and storing your pages once you are finished creating them. If you opt for non-digital scrapbooking, you will need prints of your photos, adhesive, scissors and embellishments in addition to paper and a photo album. All scrapbooking supplies, from digital software to page embellishments, are available in many different styles, so you can find the accessories that will be just right for you.

Attentive preparation will ensure that your scrapbook pages turn out well. Before pulling out the glue, spend a little time organizing and grouping your photos and decorations together on a page. Grouping photos together by event, theme or date works well in most cases. Limiting your number of pictures, using just a few photos or sticking with just one large picture can help avoid crowding the page. Once you have found a spot for your photos, spend a little time working with frames, stickers and other embellishments to see how they adorn the photos or detract from them. If you are using digital scrapbooking software, the preparation process will be much simpler because digital photos and accessories can be swapped and changed over and over. Just be certain that you are happy with the page before saving and printing it.

Putting your scrapbook page together is a fun process. Once the preparatory work is complete, you are ready to stick your photos and embellishments to your page. There are special scrapbooking adhesives available, such as spray glue and double-sided tape applicators, that make assembling scrapbook pages much easier. If you are using digital software, you can still join in on the fun of embellishing your scrapbook pages by adding extra items to your pages after they are printed. The key to embellishments is to not overdo them. If you use too many, the focus will be on them rather than the photos. In addition to embellishments, you might consider adding journaling or notes to your pages with pretty pens or colored pencils. If you are artistic, you might also think about adding some of your own original artwork or poetry to your scrapbook, making it unique.
Scrapbooking Tip:

Remember to use your own personal style and creativity when you are scrapbooking. If you follow someone else's ideas too closely, then the scrapbook pages won't be as special.

Buy Scrapbooking
Back to Guides Directory