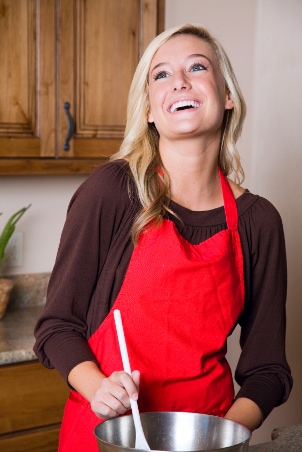 Dining out is a favorite pastime of many. Who doesn't enjoy a delicious, chef-prepared meal with no dirty dishes to clean? Visits from the in-laws, birthdays, graduation, job promotions, and the magnetic pull of a chef-prepared steak: There are just some occasions where you have to dine out. The hefty cost of dining out, however, is enough to discourage a trip to your favorite eatery. Here some easy ways to bring the restaurant experience home, or to slash your restaurant tab when you just can't bring yourself to slave over the stove. Home or away, there are plenty of ways to alleviate the effect on your pocketbook.
Bring the Restaurant Home:

Hunt for recipes: Sometimes a new recipe is all it takes to spice up dinnertime. Use the money you would have spent on an expensive dinner and buy an inspiring new cookbook. If you're craving food from a particular restaurant, try an internet search to find some easy takes on their recipes. Peruse Pinterest boards for mouth-watering culinary inspiration; you're sure to find countless innovative recipes to make yourself at a fraction of the price of eating out.

Invest in the best: The best-tasting meals always start with the best preparation. If you crave the taste of chef-created meals, maybe spend a bit of time and money on a cooking class. You may find you can create that pricey meal at home for a fraction of the price. The right tools also make a huge difference, so it may be a good idea to invest in some quality tools to accommodate your favorite cuisine. Love Asian food? Buy a stainless steel wok, ceramic sushi dishes, and fancy chopsticks. A solid saucepan will ensure your Italian sauces turn out perfect and savory every time. If Sunday brunch is your thing, you can create a delectable spread at home. Serve your favorite coffee cake or quiche on a pretty serving dish and enjoy cup after cup of rich coffee, brewed French-Press style. These tools will require an investment up front, but will save you loads of restaurant tabs and tip money in the long run.

Set the mood: Part of the magic of dining out is in the presentation. With a few special additions, however, it's easy to set up an idyllic epicurean experience in the comfort of your own home. There's nothing inspiring about a meal eaten in front of the TV, however. Instead, invest in some stylish dining room furniture, so you'll be sure to sit at a table that you truly love. Plate your meals on beautiful dinnerware and set the mood with some tabletop candles. Apartment dwellers can use a carefully-placed curtain or a stylish bar set to set aside a designated dining area. These small details can go a long way to make any meal feel more special.
Find Savings at the Restaurant:

Lower your drinks tab: If you enjoy wine with your meal, bring your own bottle; most restaurants offer reasonable corkage fees. Or, have a drink with friends at your house before you head out and then stick with water at the restaurant.

Split your plate: You can also control the cost by taking advantage of generous portions by splitting a meal with someone or ordering one of the tasty, lower priced appetizers as your meal. The same goes for dessert; order one or two desserts for the whole table to share.

Buy Dinnerware
Back to Guides Directory