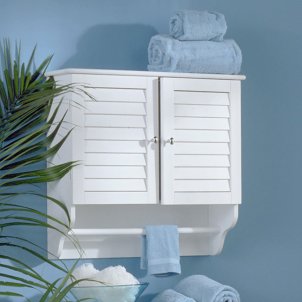 The bathroom cabinet is more than just a place to store toiletries. As the focal point of the bathroom, it needs to be kept in good shape. Over time, humidity and high traffic can wear on the finish or paint of your cabinet. Replacing an old cabinet, however, isn't always necessary. Follow these steps to repaint your cabinet and revitalize your bathroom.
Painting Cabinets:

Use a screwdriver to remove the doors(s) and any handles or knobs on the cabinet. This will allow you to thoroughly paint the cabinet without marking the knobs. Remove any chipped or flaking paint with a scraper or putty knife to create a smooth painting surface. If you're unable to remove a piece of hardware, you can carefully tape it off before you paint.

Sand it down. Sanding may be one of the most important parts of the painting process. Using a sanding block or rough sanding paper, sand every surface of the cabinet and door(s). This will allow for even paint distribution and a vibrant finish. When you're finished sanding, brush away any dust or paint chips to provide a clean surface on which to prime and paint.

Tape it off. Be sure to tape off any wall surfaces surrounding your cabinet to ensure you only end up painting the cabinet. Carefully cover with tape any hardware you were unable to remove.

Use a primer made for use on previously painted materials. Allow the primer to dry completely before you start to paint; this should take anywhere from 1-3 hours, depending on the humidity and temperature of the room. Choose an acrylic-based primer or shellac-based primer for a good layer of protection against mold and mildew. If you're planning to paint your cabinet a saturated or dark color, it's a good idea apply two coats of primer. Allow one coat to dry completely before applying the next.

Pick a color. This is the fun part. Color may be one of the most important considerations for your revamped bathroom cabinet. Pastels can lend a soft, airy touch to any room. Dark colors make a bold statement. Hues of white will lend a crisp, clean feel to your bathroom. You can use jeweled, decorative, or bold knobs or handles to tie up the look.

Choose a finish. Opt for semi- or high-gloss paint which provides an easy-to-clean, scrubbable surface and holds up against humidity and frequent wear and tear. Some manufacturers also offer water-based paints, specially formulated for bathrooms. Beware of flat, or matte, paints which absorb moisture, resulting in mold or mildew.

Let it dry. Allow the first coat of paint to dry completely before applying a second coat. Once the second coat is dry, reattach the doors and cabinet hardware -- and you're finished.

Buy Cabinet Hardware
Back to Guides Directory