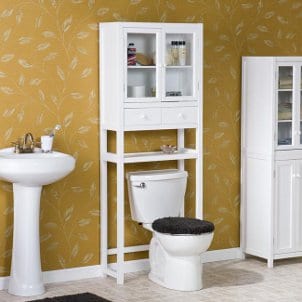 Things You Need:
Sander or paint thinner
Vacuum
Stain
Paintbrush
Painter's tape
Updating the color or stain of your bathroom cabinets is an easy way to dramatically change the way your bathroom looks without emptying your pockets. Your bathroom cabinets play a huge role in the appearance of your bathroom. Be sure to include your bathroom furniture in your decoration plans whether you're updating the bathroom or are in the middle of a complete renovation. This type of furniture is an important part of the revision process. Keep reading for instructions on how to refurbish bathroom cabinets.
Refurbishing Bathroom Cabinets:

Clean out your cabinets. Remove everything from your bathroom cabinets before you do anything else and dust or vacuum the empty shelves. Your bathroom furniture should be clean before you start sanding or painting.

Remove cabinets from the wall. If you aren't able to completely remove your cabinet from the wall, see if you can remove the cabinet doors. Taking the cabinet doors off the cabinet body makes it easier to paint them evenly. Remove the hardware from the cabinet doors and drawers.

Use paint thinner or a sander to remove old paint. If a new paint job isn't going to completely cover the old color of your bathroom furniture, you'll need to use a paint thinner or sander. Follow the directions for each method to get the best results.

Wipe down the cabinets and let them dry. It's important that your bathroom furniture is free from any chemical residue your beauty and health products have left behind. The oil from your hands is also harmful to your cabinets and may prevent the new paint or stain from properly sticking.

Apply the paint or stain. Follow the directions found on the can. Be sure to apply the paint or stain evenly. Don't be afraid to add more coats if you think your cabinets need it.

Let your cabinets dry. Let your cabinets dry at room temperature. Depending on the paint or stain you use, this may only take a few hours or it may take several days. Touching the cabinets before they're dry can smudge the paint or stain, forcing you to redo the entire process.

Put them back up. Once they're completely dry, you can re-attach your cabinet doors to the cabinet and the cabinet to the wall. You can now move all your bathroom items back into your cabinets and enjoy your bathroom's new and improved look.

Buy Bathroom Cabinets
Back to Guides Directory