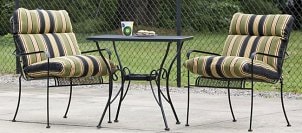 Things You Need:
Mild soap
Sponge
Protector
Wide paint brush
Gloves
Waterproof outdoor furniture covers
During those warm summer months, a lot of time is spent outside enjoying patio furniture, whether at a barbeque, by the pool or under a shady tree. Outdoor furniture can be a large investment: It's something you can enjoy for many years to come. In order to maintain your garden and patio furniture as long as possible, you will need to defend it from the elements. Fortunately, learning how to protect outdoor furniture is easy. Here are a few steps to make that process easier, giving you plenty of time to relax and enjoy the warm weather.
Protecting Outdoor Furniture:

Clean. First of all, you'll want to make sure your patio furniture is clean. Outdoor furniture is available in a variety of materials, so you will want to choose the best method of cleaning for the material to help maintain its appearance. Most outdoor furniture can easily be cleaned using a sponge and soapy water. Make sure to remove all of the upholstery or cushions before cleaning. Wicker furniture can easily be sprayed down using a hose, unless it's very dirty; at that point, you'll want to pull out the sponge and scrub the dirtier areas. Allow the furniture to air dry completely before continuing.

Protect the frame. After your furniture is clean, apply a protector to help maintain the appearance and protect it from sun and other elements. Most protectors are water-repellant and UV-resistant. Apply a furniture protector to dry furniture in a well-ventilated area with a wide paint brush. Simply follow the directions listed on the container of outdoor furniture protector; the directions may vary, depending on the type of protector. It is recommended that you wear gloves and a mask while working with chemicals. Make sure to get the protector in all the cracks and crevices and allow it to dry completely. Finally, newer metal frames are often rust-free, but if your metal furniture is not, a paste wax can be used to protect the metal from rust.

Protect the upholstery. While the furniture protector is drying, it's the perfect time to work on the upholstery and cushions. You can spot clean them using a sponge and a mild soap mixed with water, and then rinse them with clean water. Allow the cushions and upholstery to air dry completely before using or storing to prevent mildew. Never store cushions in plastic as it won't allow them to breathe, causing mildew if there is any moisture present. In addition, cushions can fade easily or discolor when overly exposed to the sun, so apply a fabric protector at the beginning of each season to preserve the color. Apply fabric protector to both sides and around the edges.

Store it carefully. Consider investing in a waterproof outdoor furniture cover. They're great for protecting against rain and sunshine between uses. If you have room, store your outdoor furniture in the house or shed during the winter months. Storing your furniture in a dry location until the cold has passed will keep it looking new for years to come.

Buy Patio Furniture
Back to Guides Directory