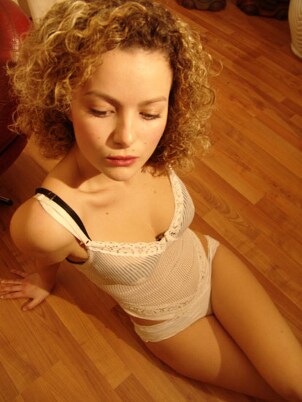 You wear your bra every day, underneath every style of clothing. It's important that the bras and underwear you purchase fit correctly; otherwise, the day can be long and uncomfortable. However, a trip to the dressing room can leave you frustrated and confused. The best way to find your true bra size is to measure your body. The following steps will walk you through measuring and calculating your bra size to find the best bra fit for you.
How to Fit Bras:

Measure for band size: Using a measuring tape, measure the circumference of your torso, just below your bust line. Place the measuring tape parallel to the ground, making sure not to measure too high or low across your back. If your measurement is an even number, add four inches to find your band size; if it is an odd number, add five inches to find your band size.

Measure for cup size: Place the measuring tape at the fullest part of your bust and measure the circumference of your body from that point. This will determine your bra cup size. Again, make sure that you are measuring parallel to the floor to get an accurate measurement. It's also important to make sure that you do not pull the measuring tape too tight across your bust.

Calculate your size: To find your cup size, subtract your band size from your bust measurement. The difference will indicate what your cup size is. Generally, each inch of difference is one cup size.



| Inches difference | Cup size |
| --- | --- |
| Less than 1 inch | AA cup |
| 1 inch | A cup |
| 2 inches | B cup |
| 3 inches | C cup |
| 4 inches | D cup |
| 5 + inches | E cup |


Determine your cup size and combine it with your bust size to find your bra size. For example, if your band size is 36 inches and your bust measurement is 38 inches, your complete bra size will be 36B.

Fit your bra: Once you have found your bra size, it's still important to fit your bra. Just because a bra is your size doesn't mean it will work for your body. Many different brands have minor variations in fit. To fit your bra, put your arms through the shoulder straps, and then bend over letting your breasts naturally fall into the cup. The bra should fit the contours of your bust snugly and comfortably. You may need to adjust shoulder straps and clasps until you have found the right fit. If there is gaping, puckering or pinching, you likely need a different size bra.

Find the best bra style: It's important to try different bra styles to help you find what works best for you. If you want to enhance your cleavage, look for underwire bras and push-up bras. If you need support or want a structured look for under your clothes, full-coverage bras are best. A demi-cup bra gives the least amount of coverage, but it can also be the most comfortable for petite body types. Make sure that the style of bra you choose fits your bust comfortably without gaping or spilling.

Buy Bras
Back to Guides Directory