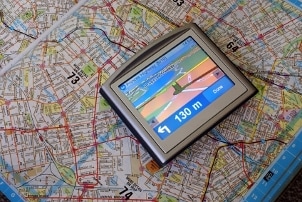 Thanks to GPS technology, navigating the roads and byways has gotten a lot easier, even in unfamiliar towns and cities. Garmin is one of the leading manufacturers of global positioning system receivers, and they've created menus and user controls that make a Garmin GPS easy to use. Here are some simple steps to help you use Garmin GPS navigation from point A to point B. Depending on your Garmin portable GPS model, some of the steps may vary or the buttons may have slightly different names. In this guide, you'll learn to use your Garmin car GPS for navigating roadways.
Programming Your GPS:

Achieve satellite lock. Drive to an open area, clear of trees and tall buildings, and then turn on your Garmin GPS. You'll see a satellite icon on your screen. Once one or more lines appear, you'll know that you've acquired a satellite signal.

Start an address search. Typically, you'll just touch the "Search" button and select "Address."

Your Garmin GPS will ask you for the country, state or province.

Select "Spell City" and enter the city or postal code of your destination.

You'll be asked to enter the street address, and multiple search results will appear. Select the correct location.

Start navigating. You can press "View Map" to see your destination on the Garmin GPS map or press "Go" to start your journey using Garmin GPS navigation.
GPS Tips:

Do a few test routes in your neighborhood and familiarize yourself with the controls and options on your Garmin GPS before you head out on a longer road trip.

Some navigation units include extras, like music players, Web browsers and hands-free calling.

You can save locations and destinations as bookmarks for quick reference.

Buy Garmin GPS Navigation
Back to Guides Directory