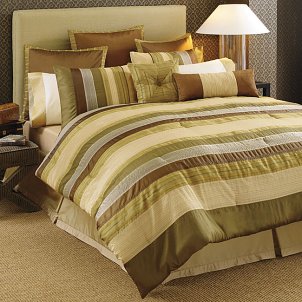 Things You Need:
Fitted bottom sheet
Top sheet
Duvet cover
Comforter
Pillow
Pillow cover
No one ever forgets a good host. Make sure your guests have an unforgettable stay in your home by learning how to prepare an inviting guest bed. Comfortable, well-prepared bedding can make all the difference in your guests' time at your home. Look below to learn all the steps, from how to deal with pillows to where to place a duvet.
Prepare an Inviting Guest Bed:

Apply the fitted bottom sheet. Slip each corner of the fitted bottom sheet onto the corresponding corner of the mattress.

Smooth out creases. Smooth out the creases until the sheet is neatly arranged.

Consider color. The color of your fitted bottom sheet depends on your personal preference, but white or other light colors are used most of the time, giving the bed a fresh and clean appearance. The same applies to the color of your top sheet, duvet cover and pillow cover.

Put on the pillow cover. Slide the pillow into its cover. Ideally, this cover will be a case or sham that is part of a duvet cover set and will be a similar color to the bottom and top sheets.

Place the pillow. Place the pillow at the top of the bed.

Arrange the top sheet. Arrange the top sheet evenly over the bottom sheet. Tuck the overhanging edge at the foot of the bed neatly under the mattress.

Apply the duvet cover. Slip the duvet cover over the comforter, matching up the corresponding corners and securely closing the open end of the cover. When finished, grasp two end corners and shake the duvet to smooth out any folds.

Smooth the duvet. Smooth the duvet over the bed.

Fold the top sheet over. Fold the end of the top sheet over the duvet near the head of the bed.

Make it extra-inviting. To add extra flair, items such as flowers or chocolates can be placed on the pillow.
Tip:

For a cozy bed that your guests will rave about, choose high-thread count sheets.

Buy Bedding
Back to Guides Directory