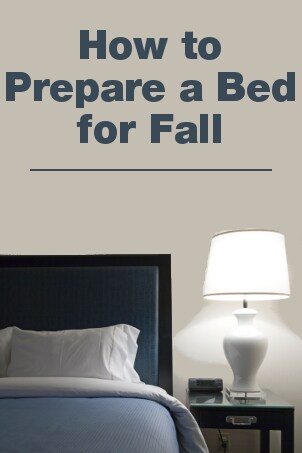 SHOP BEDDING NOW >>
The start of fall means the start of preparing for cooler weather. Summer clothing is put away, and warmer winter clothing is brought out and cleaned. Many people also take the opportunity to prepare their bedding for the season as well. Fall is a great time to give your bedding a good cleaning and to outfit it with cozy linens that are perfect for chilly autumn nights.
Preparing a Bed for the Fall:

Strip the bed of all linens: Remove all comforters, blankets, and sheets. Remove all pillowcases and shams as well. Finally, remove the mattress pad and dust ruffle, if you have one on your bed.

Dust and clean: Clean the bed frame of all summer dust and pollen before fall starts. Prepare your bed for cleaning by first removing the mattress. Next, wipe down the bed with a damp rag. Finally, move the bed and vacuum under it.

Move it back: Move the bed back to the original position and replace the mattress after vacuuming, flipping, and rotating it. Mattresses should be rotated and flipped every two or three months to ensure even wear and support. If you have a pillow-top mattress, don't flip it but do rotate it.

Increase comfort: Replace a worn mattress pad or add a new memory foam pad to your bed for extra comfort during the winter months. Memory foam pads can trap heat, helping you save on heating bills all season long. Heated mattress pads also provide luxurious heat.

Add fall bedding: Prepare your bed for cooler weather by outfitting it with warmer, heavier fall bedding. Flannel is a popular choice for fall bedding. Consider purchasing new linens in deep autumn colors to reflect the season.

Add warmth: Switch your lightweight bedspread for a down comforter tucked inside a cozy duvet cover. Consider adding a matching bed skirt and pillow shams. A duvet is like a large pillowcase that protects your comforter -- buttoning, snapping, or tying at the bottom. A quilt is also a cozy option and can be kept neatly at the foot of your bed for especially cold nights.

Shop Memory Foam
Shop Down Bedding
Shop All Bedding
See All Guides
Read More Bedding Guides
Get More Bedding Tips