by C.M. Mackenzie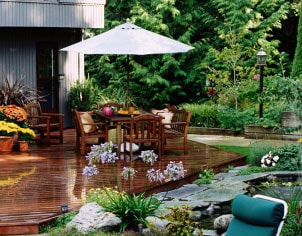 Things You Need:
Pencil
Sketch pad
Tape measure
Well-placed outdoor furniture provides additional function and decoration to a garden. Chairs, chaise lounges, benches and hammocks, all nestled amongst blooming plants, create a delightful space for summertime relaxation. Patio tables and chairs can turn an unused section of yard into a warm-weather area for meals and socializing with friends. There are few hard and fast rules for placing outdoor furniture, and much is a matter of personal taste; however, patio furniture placement is always best when it is easy to access and kept on stable soil or patio surfaces.
Placing Outdoor Furniture:

Start with pencil and paper. Roughly sketch out your yard on a sketch pad. You don't have to be a good artist to do this; the purpose is simply to help you plan furniture arrangement. Note bushes, shrubs and trees, and then note empty areas that are suitable for furniture unless you plan to place all furniture on your patio.

Consider the birds and bees. Some plants may interfere with your furniture plans. Placing patio furniture beneath large trees that emit sap or bear fruit will make the cleaning and maintenance of your garden furniture more time-consuming. Insects, such as bees, should also be considered. Some flowering plants attract flying insects; avoid setting chairs and tables too close to plants that attract bees.

Plan the space. Use a tape measure to measure your outdoor furniture as well as the areas you wish to furnish. Accurate measurements will ensure that once you actually move the furniture to the spot, it won't be too large or too small for the area.

Place the large pieces. Place the largest pieces first. A garden bench or outdoor dining table with an umbrella, for example, may be the focal point of a garden area. A chaise lounge or two can be the center of a seating area. Once you've placed the main pieces, you'll have a better idea of which smaller items will complement the remaining space best.

Add decorations. Place accessories -- garden lights, fireplaces, chimes, statues, outdoor fountains, birdfeeders and birdbaths -- after you've placed all the larger pieces.
Tips:

Other things to consider include amount of sunlight a garden area gets (you may wish to pick a shady area for sitting), whether or not the area is protected from rainfall, and privacy.

Place furniture on even surfaces whenever possible to avoid injury to the furniture or to the people using it.

Buy Patio Furniture
Back to Guides Directory