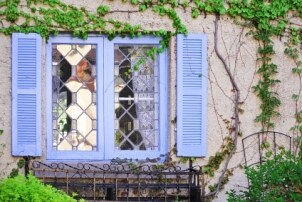 When selecting a color for your window shutters, take your time deciding between your many options. You can choose a traditional color to create a classically elegant look or you can select something that causes people to sit up and take notice of your home decor. You can even pick a color that will create an illusion of bigger windows. If you purchase wood window shutters, you can stain or paint them a different color any time you feel like a change.
Picking Colors for Shutters:

Choose a style. Decide if you want a traditional or contemporary look. White and black are traditional colors for exterior window treatments, while contemporary looks include bolder colors, such as bright blue and red.

Complement the color of your home. If you're going for a subtle look, choose shutter colors according to the exterior color of your house. Traditional shutter colors are usually within the same family as the house color, with the exception of white and black, which go with any color. A light-colored house will look nice with exterior shutters in a color a few shades darker than the house paint, and a dark-colored house will look nice with lighter shutters. Bold colors look best with black shutters, which accent the bold color but don't compete with it, while pastel house paint looks fresh and clean when paired with white shutters.

Complement your home design. Think about the overall look of the outside of your home. If your landscaping is elegant, match the shutters to your roof color. This gives the impression of a custom-built house and complements a more formal landscape.

Use shutter colors to fix a flaw in your home. For example, if your windows are small, match the color of the exterior shutters to the trim of your windows. This will make your windows look much larger.

Make a color statement. If your home is modern or unusual, make a statement by selecting a bold color for your shutters, such as a deep red, and paint your front door to match.

Buy Window Treatments
Back to Guides Directory