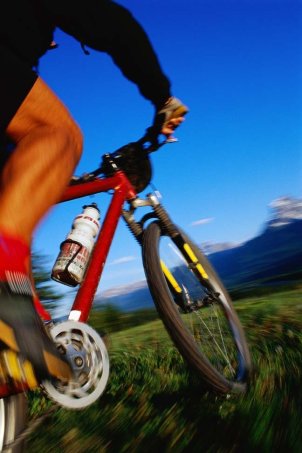 Anyone who loves the excitement of the outdoors is sure to love mountain bikes. Mountain bikes provide fun and thrills for people of all ages and interests, so no matter who you are or what you enjoy doing, there's a strong chance you'll love hitting the trail on a new mountain bike. Are you in the market for a new mountain bike? Take a look below, where you'll learn some handy tips that will teach you how to pick the right mountain bike.
Buying a Mountain Bike:

The basics: Wider tires, suspension and straight handlebars are the three main things that make a mountain bike a mountain bike. The gearing of a mountain bike is also designed to tackle the constant changes in slope and terrain. Quality mountain bikes will have a lightweight frame, usually made of aluminum. Low-end mountain bikes will normally have a heavier steel frame. Most mountain bikes have 26-inch wheels. Some have 29-inch wheels, though mountain bikers debate the benefits of the larger wheel.

Suspension: A quality front-suspension bike, called a hard-tail, is enough for most moderate mountain bikers. A front-suspension fork will soften the jarring in your arms and shoulders. A full-suspension bike (front and rear) will make for an even smoother downhill ride, but the design can make climbing more difficult.

Sizing: One important measurement of a bicycle is its stand-over height. This is the measurement from the ground to the top tube. You can know what size of mountain bike to look for by measuring your inseam (from crotch to floor) and comparing it to the listed stand-over height. Make sure you will have 3 to 5 inches of clearance between your crotch and the top tube when standing over the bike. Often, bike makers don't list the stand-over height but do list the frame size. A bike's frame is measured from the center of the cranks to the top tube -- basically, the length of the seat tube. You can find your recommended frame size for a mountain bike by multiplying your inseam measurement by 0.59. For example, somebody with a 32-inch inseam would probably want a bike with an 18- or 19-inch frame (32 x .59 = 18.88), depending on the available sizing options.

Buy Bicycles
Back to Guides Directory