How to Pick the Best Exercise Clothing
by Lindsay Law
You have a new gym membership and plenty of enthusiasm. Exercise clothings is the only thing you're missing. Wearing the right exercise clothing can make your workout more efficient and more enjoyable. If you're unsure of which fabrics and styles are best for exercise, read on for a few tips on purchasing both men's sport clothing and women's sport clothing to meet your workout needs.
Picking Exercise Clothing: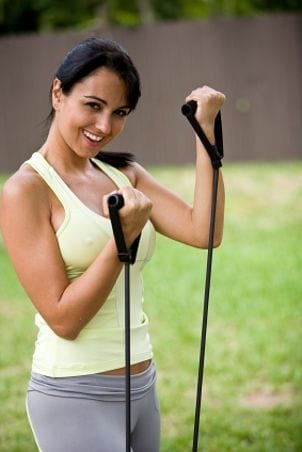 Shop Men's & Women's Sport Clothing ▸
Consider your exercise:

Finding the best workout clothes depends on your level of activity and the types of exercise you plan to do, such as running, walking or yoga. Look for workout apparel designed specifically for the type of exercise you'll be doing.

Find flexible fabrics:

Warming up and stretching is an important part of exercise, so select exercise clothes that allows you to bend. Clothing made from polyester and spandex is stretchy and durable, and cotton blends can also provide adequate movement in your sports clothing.

Moisture-wicking fabrics:

Even for the lightest workouts, sweat and excess moisture can create a problem. Whether you're heading to the gym for yoga class or taking in a round of kick boxing, look for exercise tops and exercise pants that wick away moisture. Nylon and polyester fabrics work well for moisture-wicking clothing; however, cotton absorbs moisture and can become uncomfortable. Check the label to be sure you've chosen the best moisture-wicking clothing.

Clothes for protection:

If there is a chance that you could fall or become injured while exercising, make sure you pick active clothing that covers your body adequately and is made from durable materials that will not rip easily. If you are hiking or planning to be outside for quite awhile, consider wearing layers of exercise clothes both to protect you and to keep you warm. You can always shed a few layers of your active clothing if you get too warm.

Remember to be safe:

Joggers and walkers who exercise in the morning or evening should invest in workout clothes with reflective material so that they are visible in the dark or in poorly lit areas. Lighter colors work great, but black sports clothing with reflective panels is ideal.